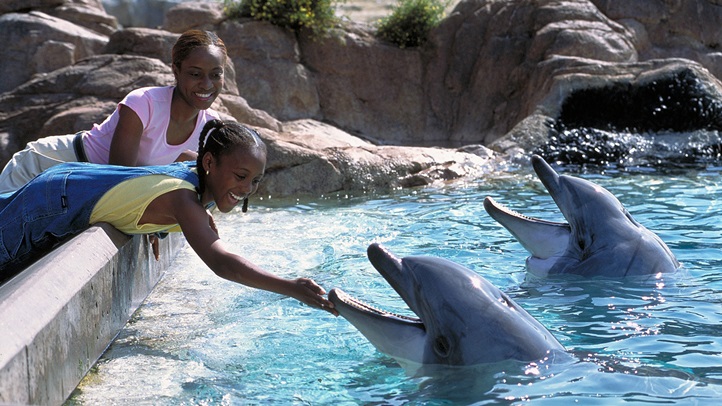 GOOD IDEA: Some ideas in this world are of the "eh, that's pretty good, but nothing to phone -- or, er, text home about." But, every so often, a really excellent one comes along, it is very wide-ranging, it rolls out over several days over several places, and thousands of people participate. The saving of money is often involved in truly excellent idea-having, as is culture, fun, leisure, and relaxation. And while those two elements may intertwine from time to time, rare is the day, or month rather, when they show up on a really big scale. Kids Free in October is in the really excellent idea category, and this is a principal reason why: Rather than just a museum or two offering a discounted half-off ticket for kids ages 5-8 every other Tuesday, dozens of San Diego museums say this: Kids. Are. Free. That's it. Kids can get in free, with a paying adult, for, wait for it, an entire month. Including weekends. That month is October, meaning the second annual go-around for this popular mega offer is nearly here.
HOW IT WORKS: You'll just need to eye the roster of participating places -- San Diego Air & Space Museum, the Museum of Making Music, the Living Coast Discovery Center, and the California Surf Museum are four of the 35+ -- and find out whether your kid'll need a coupon or not. (Either way, they are free, if they are with you, and you pay.) There is a kidly limit -- two tots per paying adult -- and your young museum goers should be 12 and under. To make sure you don't miss any asterisks, read all.
AND... A number of hotels and restaurants are offering deals and discounts during the Kids Free October goodness, meaning that once you skip paying that museum admission for the young'uns, you can save on the burger and room that night. And isn't October a swell time to throw this? Everyone's settled into the school year but the holidays aren't on the march in quite yet. Cheers, San Diego. Keep having these excellent, money-saving, brain-growing ideas, please. Thank you.
Copyright FREEL - NBC Local Media