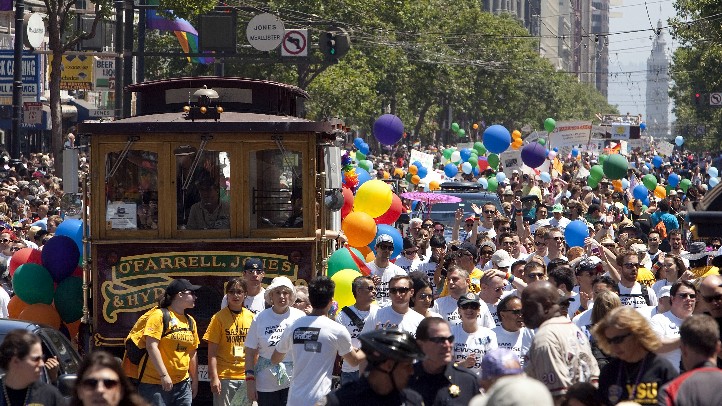 HAPPY 42 YEARS: The world has many famous pride festivals, but countless organizers and revelers look to San Francisco Pride as the ultimate celebration and longtime standard bearer. The Bay Area revelry has been around for over four decades, a period that saw numerous other LGBT events start up while using SF Pride as a blueprint, or at least as an inspiration. So it follows that many pride participants from all over would want to see that famous pride, at least once, or join in the dozens of activities leading up the big weekend. That weekend in 2012 is Saturday, June 23 and Sunday, June 24, and, once again, the entertainment and community-minded options are numerous.
WHERE TO START: City Pass by San Francisco Pride is available through the web site. Even if you don't get the pass, the page offers a good look at the variety of events going on, from fashion shows to dance nights to pride parties.
SUNDAY PARADE: The SF Pride parade starts Sunday, June 24 at 10:30 a.m. at the corner of Market and Beale. This is the centerpiece of a busy weekend, so arrive early for your curb.
HOTEL DEAL: Joie de Vivre is one of pride's travel partners. There's a deal on for stayovers, and a code, too, for 20% off. Check out the details.
2012 THEME: "Global Equity" is at the heart of 2012 SF Pride. Oh, and the celebrity grand marshal is Sarah Silverman.
RAINBOW FLAG: We see it so often. But do you know where the symbol of gay pride and community originated? Yes indeed, the answer is San Francisco, and the many-hued banner's story is very much tied to early pride celebrations. Thanks, San Francisco Travel, for an interesting history of a colorful and important icon.
Copyright FREEL - NBC Local Media