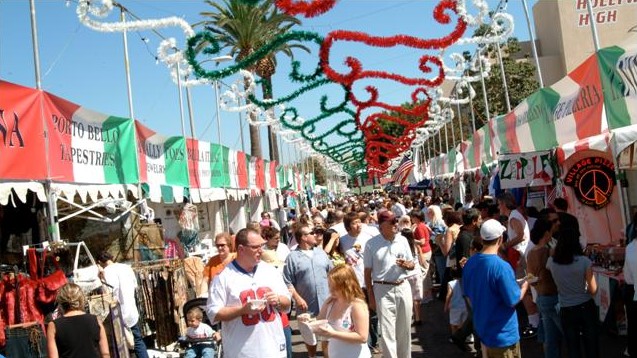 A tenth birthday can, more than any other birthday, inspire one to shake their heads.
If it is person turning ten, well. You can hardly believe that they aren't a little tot any longer. And when a big event hits the big marker? You remember the very first year it started, when there were just a handful of booths and acts and the organizers were getting everything up and going.
It's hard to believe our Feast of San Gennaro is marking its decade anniversary this year. Remember strolling outside the Grove, eating a calzone, years ago? We do. (Did we share a calzone with you?) It has certainly grown since then.
And it has changed spots, too. The foodie-nice street fest is now up against Hollywood High, but the September window has remained the same. And in 2011? Those dates are Friday, Sept. 23 through Sunday, Sept. 25.
The classic highlights still remain as well. Jimmy Kimmel and Adam Carolla still do their night-before gala. There's still a focus on charity (there'll be a marathon TV watching fundraising deal this year). Mass will be held on the main stage on Sunday. There shall be bingo games and lots of 'em. And food? So much food. How do you take your pizza? White, meat-laden, no sauce? Yep. You'll find it at the fest.
The famous New York festival marks its 85th outing this year. Totally laudable, but now that our own Feast has entered the double digits, well. Can 85 years be too long away?
Copyright FREEL - NBC Local Media