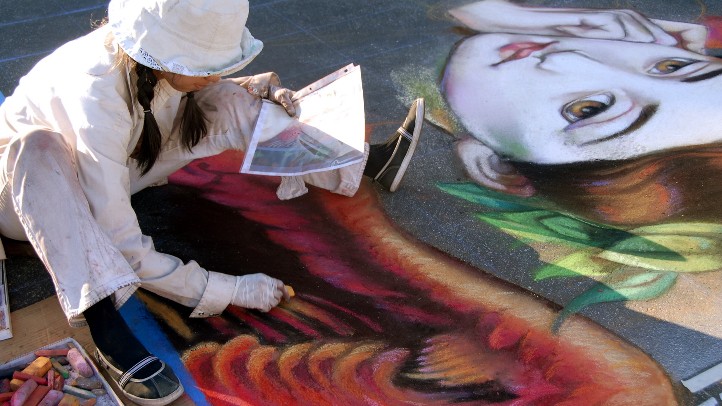 GLORIOUS GROUND: It isn't often that the sidewalk gets a ton of love, which is too bad, especially since it helps us get from place to place. But when a traditional Italian street painting festival rolls into town, it's all about looking down, and marveling at the gorgeous images and scenes and portraits that artists create below our feet. Santa Barbara has one of the best known of all the street painting parties in this country -- call it I Madonnari -- and it is set to roll again over Memorial Day Weekend or Saturday, May 26 through Monday, May 28. And like the best of the street painting festivals it is completely free to attend.
WHAT YOU'LL SEE: About 150 "sidewalk paintings" rendered in chalk. Some are whimsical and some are classical and some are those wild 3D pictures that seem to change as you circle them. And, sitting next to them, pants often chalky? The person behind the creation. Chatting up the artists is always one of the most excellent parts of a street painting festival.
ONE ADDITIONAL LIKE? The location is the dramatic Santa Barbara Mission. Meaning that the works of art are very much adjacent to a work of art. We do love when a setting is perfectly paired with an event in theme and beauty.
Copyright FREEL - NBC Local Media