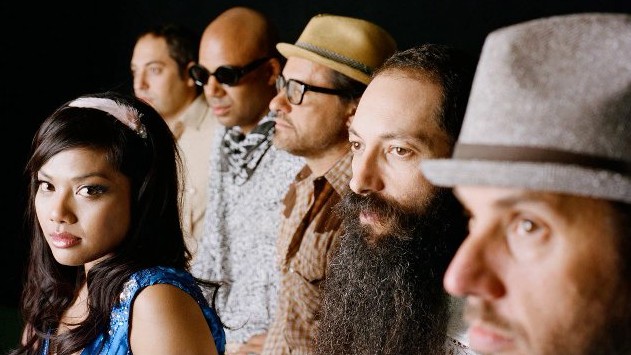 Can summer be nearly here? Our June Gloom-y days sometimes belie the fact. But an instant warm-weather starter is heading up to the Getty for Saturdays Off the 405. (We say "heading up" with the assumption that you're somewhere below the altitude-blessed institution, but should you be above the Getty then reverse that.)
Dengue Fever is the featured band on Saturday, June 18. Oh yeah. Tunes performed in both English and Khmer, and textured-filled "'60s Cambodian pop." DJ Mahssa will also take the spotlight.
Here are three likes we're going to lay on this once-every-so-often happening right now. One, it happens every so often, as we said. Meaning it is special, and you just gotta get there.
Two are the Getty-tinis. If you're a world-famous museum, and you're throwing a free music party at your hilltop bastion, by jiminy you better have a cocktail named after yourself. No one would disagree with us here. They'll be for sale at the cash bar.
And three, there are free gallery tours at 6 and 7 p.m. We'd tour, then get a Getty-tini, then discuss. We'd probably also say "we're gettin' a Getty-tini" to our friends until they asked us to stop.
Oh, there's a fourth thing to like. It's free. We mentioned that, but free is always worth mentioning multiple times.
Copyright FREEL - NBC Local Media