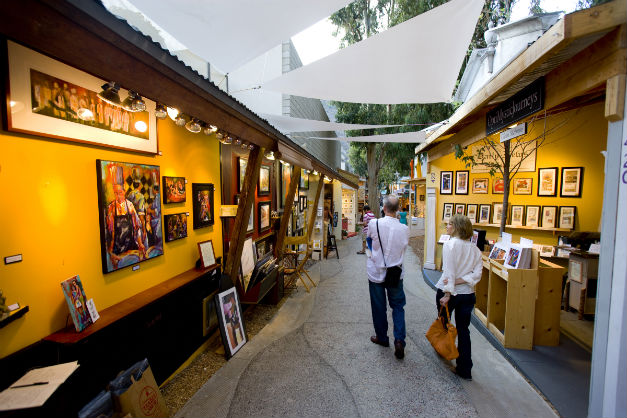 On Friday, June 25, Laguna Beach will welcome you (and your inner artist) to the Sawdust Art Festival. In the hippie-chic canyons of the beach city more than 200 artists will display their artwork – from ceramic teapots to impressionistic paintings – for onlookers to ogle or take home.
And artwork isn't the only thing the culture-savvy attendees will enjoy. Live music, food and a drink in the saloon might lure your friends and loved ones. Plus, the kind craftsmen are nice enough to host glass-blowing demos and hands-on workshops, so even the art-impaired can get their creative juices flowing.
The sawdust covering the floor of the makeshift storefronts reveals that this isn't an ordinary art festival. Located on a three-acre eucalyptus grove in the Laguna Canyon (with waterfalls!), the festival has quickly established itself as the most popular in the region and is known for giving a voice to up-and-coming artisans.
The festival runs through August 29, so you have a couple months to stock up on some awe-worthy items. Who doesn't need a handcrafted oak bench or a one-of-kind ceramic sculpture?
The Sawdust Art Festival is located on 935 Laguna Canyon Road in Laguna Beach and is open from 10.a.m. to 10.p.m. Check out their web site at www.sawdustartfestival.org for more information.

Follow NBCLA for the latest LA news, events and entertainment: Twitter: @NBCLA // Facebook: NBCLA