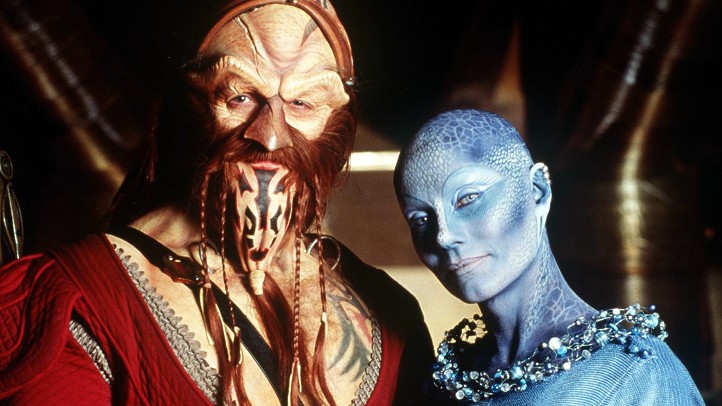 If television shows taught self-help seminars, we're pretty sure the classes helmed by the sci-fi classics would fill up first.
Why do we say this? Because years can pass -- actual years -- and fans will still line up and dress up and pump up to see the stars of the series at a convention. Sitcoms don't enjoy that special luxury, usually; nor do dramas.
So you see what we're saying. Genre shows could totally teach all other shows a thing or two in the longevity and self-esteem departments.
And many of those shows will be out in force from Friday, Nov. 18 through Sunday, Nov. 20 at the LAX Marriott. Creation Entertainment, the company behind the official "Twilight" convention a few weeks back, is gathering all sorts of people from "Farscape" and "Stargate" and "Eureka" and "Warehouse 13" and "Sanctuary." Call it one-stop shopping for the fan who digs her strange and surreal genre television. (We'll add that not all of those shows are off the air; "Farscape" wrapped almost a decade ago but properties like "Warehouse 13" keep on keepin' on.)
Highlights include a whole mess of celebrity hellos -- including the lovely Virginia Hey of "Farscape" (she's pictured above) -- and other convention favorites. Will there be dress-up time? There will be dress-up time. Oh heck yes.
The shows are staggered -- "Eureka" and "Warehouse 13" and "Sanctuary" to-dos will happen later in the weekend -- so you'll want to eyeball it all. And if you're a big fan of two of the properties? Then lucky you.
And "Xena" buffs? Hang onto your breast plates. Your con is coming up at the end of January.
Follow NBCLA for the latest LA news, events and entertainment: Twitter: @NBCLA // Facebook: NBCLA
Copyright FREEL - NBC Local Media