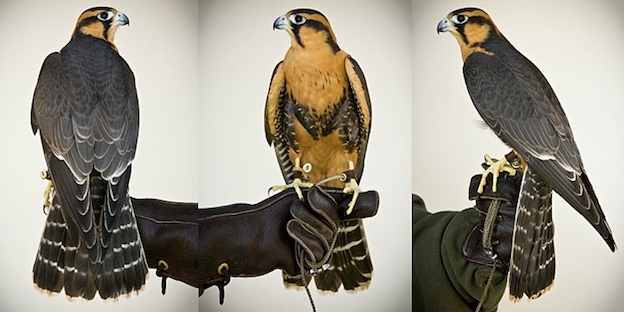 A BIRD, A GLOVE, AND THE SKY: Falconry usually gets some play in ye olde olden tyme books and films (picture a prince on his steed and a falcon in a tiny mask as they head off into some moor). But the ancient sport is still around today, even in LA. No surprise there, of course, but it is a surprise when you get to see it up close and not on some small screen. Enter Obscura Society LA's Raptor Encounter, which will take to the skies over the beautiful Vasquez Rocks on Saturday, June 1.
BUT BEFORE THE SKIES... There shall be an on-the-ground lesson from master falconer Vahe' Alaverdian, who will have Pepper, Shaman, Little East Texas, and Genghis with him. That feathery quartet comprises the Falcon Force, described as a "team of raptors" with Mr. Alaverdian at the lead. There are a pair of peregrines in the foursome, and a Aplomado and a Barbary, too, so falcon fans will get to see the full breadth, or at least a very wide one, of falcon flying. The time? Before dawn, from 5 to 7 a.m. If you're not near Palmdale, you'll need to set out very early indeed. A ticket is $20, and word has it that there are a few left.
ABOUT THOSE ROCKS... Of course, the Vasquez Rocks are worth making a trip to whenever you can. They've been in a ton of movies -- "Blazing Saddles" and the 2009 "Star Trek," just to name two biggies -- and they've got several doings going down, of the nature-learning sort, pretty much all the time. Here's where you find the fun stuff on one of the best-known sites in the Santa Clarita-Palmdale nexus.
Copyright FREEL - NBC Local Media