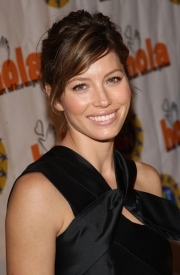 1) Jessica Biel: The actress is going to be designing a line of handbags for boyfriend Justin Timberlake's label, William Rast. Fashionista questions Biel's fashion know-how: "we were under the impression that her knowledge of fashion didn't go past her True Religion jeans and Juicy Couture sweaters. She doesn't turn up at the requisite star-studded fashion shows, nor is she particularly known for her style—we always thought that her casual look was decidedly un-fashion." Hm, wonder if she'll get in on the William Rast short film action. [Fashionista]
2) Julia Stiles'...Mom: We learn from Page 6 via Racked NY that the actress' mom has opened up a furnishings shop in TriBeCa: "Judith Stiles Designs is in retail space of the newly renovated Church Street School for Music & Art, which for decades has been the creative hotspot for downtown kids, including the offspring of Susan Sarandon and Tim Robbins, Eric Bogosian, and Stiles herself." [NYP via Racked NY]
For more stories from Racked LA, go to la.racked.com.
Copyright RACKL