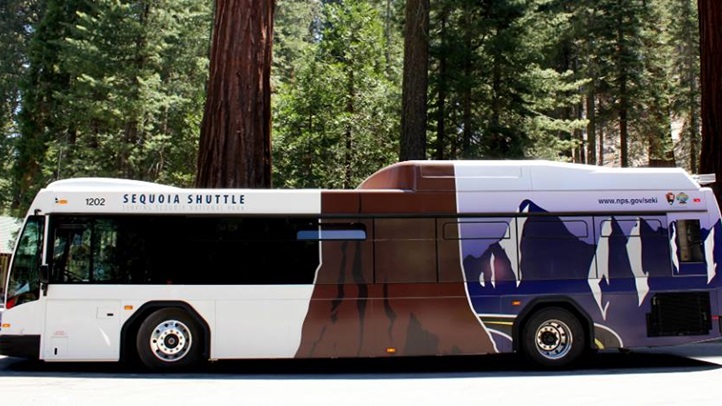 THE DRIVER TAKES A BACKSEAT: If you've ever sat at the steering wheel on a family road trip, you know the joy that comes from having the people riding in your passenger seat, and the backseat, look out the window as you drive by nature's wonders (more easily achieved if everyone has stowed their small screens for a few miles). You can hear them ooh and ahh as you keep your eyes firmly on the road ahead, and all of that oohing and aahing makes you glad that you've given your nearest/dearest this chance to connect with nature. But, as for you? Well, you're all eyes on the road, because safety matters, and, as the pilot of your ship, be it a station wagon or minivan or convertible, you want to make sure the journey is a smooth one. There is a way, however, to go to the natural wonders, some of the most famous in California and the wider world, and not have to be eyes-on-the-asphalt-ing the whole time. It's the Sequoia Shuttle, a seasonal ride that wends fans of the Big Trees up the mountain from Visalia and Three Rivers.
THE SEQUOIA SHUTTLE... is a warm-weather ride, and its 2015 dates were recently announced. First trip up is on May 21, last trip down is Sept. 27, and a roundtrip ticket is just fifteen bucks (which gets you into the national park, too). If you go on day one, May 21, your ticket is only a fiver. And what does that get you? The chance to daydream, to stare out your window at some of the largest living things on the planet, and to anticipate a stop-off at the General Sherman Tree (if you take the Giant Forest shuttle) or Moro Rock (if you hop on an alternative route) or the Wuksachi Lodge (a fine place for a bite and forest-pretty views).
AND DOES THIS HELP... with traffic and impact in the national park? It does, and you'll be a part of that. And will you get to point out all of the cool sights to your family, instead of asking them to describe them to you, as you drive? Yep, you got it: The Sequoia Shuttle is a full-participation roll. Something a little novel for the family roadtrip, where the driver at the helm is always on duty while the rest of the car sightsees. You can change that paradigm, at least during your sequoia summer visit.
Copyright FREEL - NBC Local Media