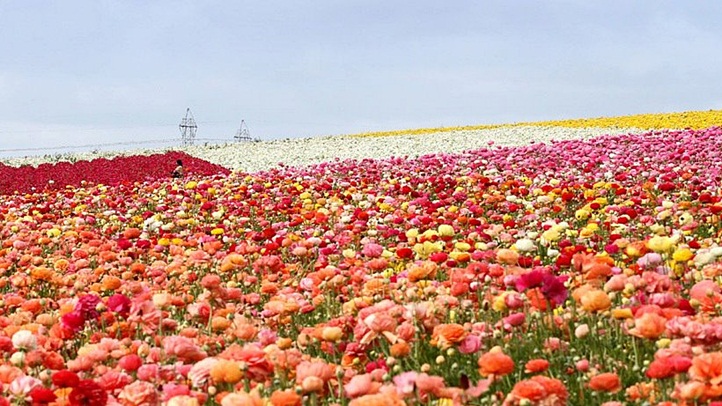 EYE-POPPING DISPLAY: When The Flower Fields reopen for their short season on Friday, March 1, we half wonder if those visitors not familiar with the Carlsbad, 5 Freeway-close farm won't wonder if what they're seeing isn't an elaborate tie-in with the opening of "Oz the Great and Powerful." Nope, the ranunculus flowers in the freeway-close fields are definitely not poppies, but they do have a color and mass that reminds one of a movie-created set. There are few natural sights to rival the ranunculus in bloom, all orange-y and red and yellow. But you have to imagine those hues pushed to their highest degree, and then picture thousands of flowers all together in rows. It's almost fictional in its beauty. Almost. A "professional colorist" plans the rows that make up the 50 acre property. Call it painting on a very large and wild scale.
SHORT SEASON: Yes, we did say "short season" earlier. The Flower Fields are open from the beginning of March through Mother's Day, which is Sunday, May 12. It's one of those things that you have to actively plan to see if you're going to do so. And seeing it from the Golden State Freeway does not count. Nope, it doesn't. That's nice and all, but your eyes should be on the road, and even if you're a passenger, you've whizzed by the bright expanse in seconds.
OTHER TO-DOS: Parking, getting out, and admiring the ranunculus, which is as fun to type as it is to say, is paramount, but the flowery farms offer other reasons to stop. Like? You can wander the on-site nursery and gift shop, and maybe leave with a little present for the garden fan in your life. Like we said, Mother's Day is ahead, and Easter and graduation, too. Flower Fields, you do time it well, even if your season is too brief.
Copyright FREEL - NBC Local Media