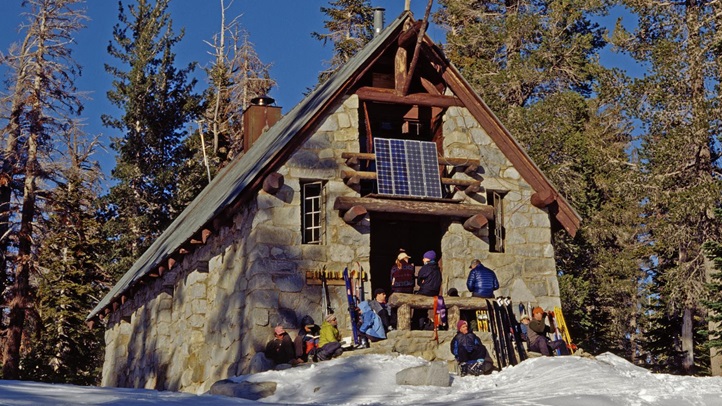 FINGERS FROST -- ER, CROSSED: Waiting on a winter that hasn't really showed, at least in the ways it typically does, what with the expected and needed precipitation and all, can sometimes be a case of "fingers crossed" for a little frost. Even though California dines out on its fine weather, fine weather does not a winter season make. We want that snowpack and we want it now. Frost fans have only needed to look at the stressful signs of a drought-serious winter to hope for a light -- or some flakes -- at the end of the tunnel. One such sign? Yosemite's historic Ostrander Ski Hut, which enjoys an annual opening just before Christmas, barely lasted a week before shuttering due to the lack of white stuff on the ground.
WHAT FOLLOWED: People with reservations were dismayed, the Yosemite Conservancy, too, and anyone who both anticipated some winter-style recreation and enough moisture to keep winter doing its wintry best, in the wettening-up nature and our water reserves departments. But the conservancy announced the good news on Wednesday, Feb. 5: Ostrander Ski Hut reopened on Friday, Feb. 7 for skiers "making the 10-mile trek from Badger Pass Ski Area."
SO, NOPE, IT ISN'T A SNAP TO REACH: But my, is it pretty. The stone-heavy hut was built in 1941 and pretty much serves as a postcard-perfect spot for Sierra mountain sports. Eager to rent it? Reservations go fast, but given its closure, people canceled. Meaning? There are some spots left for the 2014 late-winter season. Even if you don't make the long and gorgeous journey out to the Ostrander, take heart that winter has made a reappearance. Please stay a little longer, brrr-y weather. And keep bringing that precipitation.
Copyright FREEL - NBC Local Media