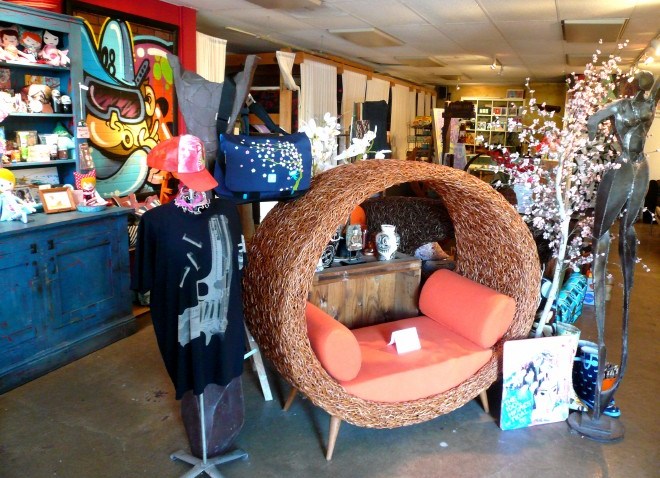 Our goals, when holiday shopping this year, are not many, but we intend to throw the people opening our gifts a bit of a curveball. No more piles of socks or the same book they've already received three times (we dread that weak smile that says "oh, wow, yeah, got this already"). This year, we want to do one-of-a-kind, can't-be-regifted stuff, period.
So stopping by the Silverlake Holiday Fair, hosted by Ghettogloss, seems like a smart thing to do. Every weekend, starting on Saturday, November 15 and ending on Sunday, December 21, the gallery/boutique is setting up shop on the corner of Glendale and Silverlake. What's for sale? Probably not the usual ho-hum sweaters that tend to clutter the average holiday list, but rather, unique items that will make your loved ones smile/blush/pump a fist in the air with delight. Cool bags with clever/pretty pictures, hand-painted wear and neato jewelry. Vintage doodads of all sorts/colors/flavors will also be for sale.
Remember, this is a holiday fair, so you should be shopping for the holidays, which means shopping for others. If it was a "You Fair" you could shop for yourself with a clear conscience. Oh, who are we kidding? Holiday shopping is always about a little something for this person, a little something for me...
Holiday Fair: Saturdays and Sundays through December 21
9AM-5PM
Corner of Glendale and Silverlake Boulevards
Ghettogloss, 2380 Glendale Boulevard, Los Angeles
323-912-0008
Copyright FREEL - NBC Local Media