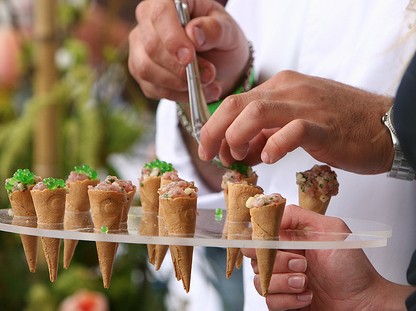 Swirl, sniff and taste. Have a bite. And enjoy the soft, salty air. It's the Malibu Wine Classic, that annual spectacular devoted to the fruits of the vine and table.
And to helping out. The 2009 beneficiary is Childhelp, and the wineries and restaurants turning out to support the charity are numerous. As in 70+ wineries numerous, and over two dozen restaurants. In the glasses you'll find samplings from Tablas Creek, Linne Calodo, and Zaca Mesa; the vittles will be chefed by Saddle Peak Lodge and The Four Seasons, among others.
Saddle Peak Lodge: Coziest, fireplaceist restaurant in all of Southern Californialand? We're casting a vote. The brunch. Delicious.
The Classic is, of course, a fine place to try new labels and restaurants, or at least spots and wineries that are new to you. Our own particular m.o. at tastings is to revisit our favorites, but that's just us. Best to mix it up. Advance tickets are $79 (and $100 at door); the festival runs from 1-4:30PM on Saturday, August 29th at Malibu Civic Center. Salut!
Copyright FREEL - NBC Local Media