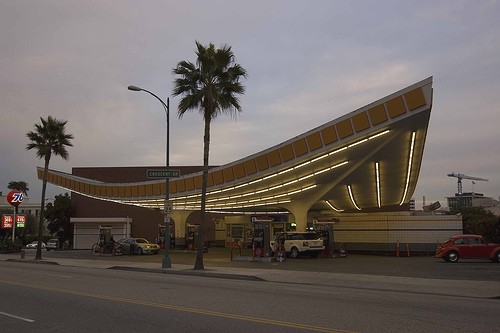 The Sixties really are turning 50, now.
The LA Conservancy's celebration of our city's many, many (and many) interesting and pointy and space-age-ish 1960s-era buildings kicked off last year. But the party has continued right into this decade -- rightly --with a People's Choice Top 60 of the '60s.
The unofficial, people-powered poll was recently released, and the top spot went to a little triangle-capped building along over Beverly Hills way. Yep, it is the Union 76 gas station, which is still a stunner. Also on the list: the Cinerama Dome, Dodger Stadium and the Hanna-Barbera Building, and several spots we know not by name but by sight and location.
There's a map of all the winners. Thank you, LA Conservancy-ites.
If you missed having your say, they've got a new thing going: Favorite Ecclesiastical Buildings. As mentioned on the site, the polls are "for fun."
"For fun" is always welcome in this day and age. Rank away, we say.
Copyright FREEL - NBC Local Media