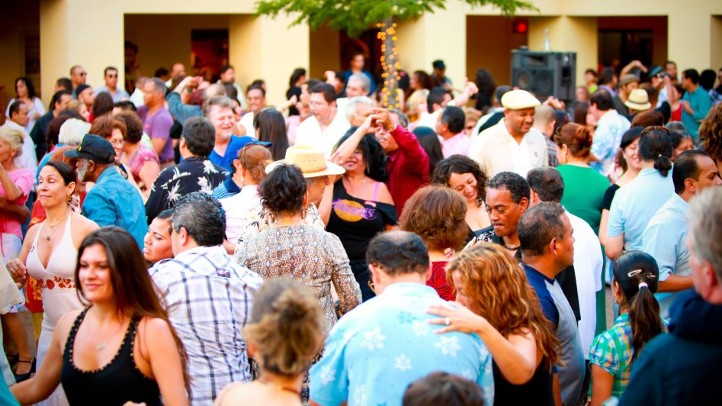 You know you live in a music-rich city when not one but two major alfresco music happenings pirouette onto the calendar on the very same night.
At one edge of the city we have the Twilight Concert Series, the every-Thursday-through-the-Thursday-after-Labor-Day tunefest that happens on the Santa Monica Pier. Heard of that particular pier? Yeah. It's only one of the world's most iconic ocean-close settings.
Twilight Concerts open on Thursday, July 5.
And on that same night, across the city, in a certain museum located in a certain park? Sizzling Summer Nights at the Autry National Center. Like the Twilight shows, the Sizzlings happen every Thursday through July and August (though Twilight does extend into one September date).
On tap? Dancing, and we do mean dancing; people come dressed in dresses that sashay and fedoras. Hot acts like Orquesta Tabaco y Ron, Ricardo Lemvo y Makina Loca, and Orquesta Son Mayor.
Price is $10, and that will also get you into the museum throug 8 p.m.
Will there be a taco and drink bar? Oh yes. Will there be a salsa instructor on hand? For sure. Will people wow you with their moves? Definitely. Should you be hesitant about trying out your own hip shakes? Definitely not; there's a spirited and easy feel to the night that is all-encompassing.
Oh, summertime nighttime dance parties. You're just starting and already we don't want you to leave. This is LA, after all; save January and February, couldn't we have outdoorsy shake-it nights all year long? We'll bundle up. Scarves and hats. Just let us be under the sky and having a low-cost good time.
Follow NBCLA for the latest LA news, events and entertainment: iPhone/iPad App | Facebook; | Twitter; | Google+; | Instagram; | RSS; | Text Alerts | Email Alerts
Copyright FREEL - NBC Local Media