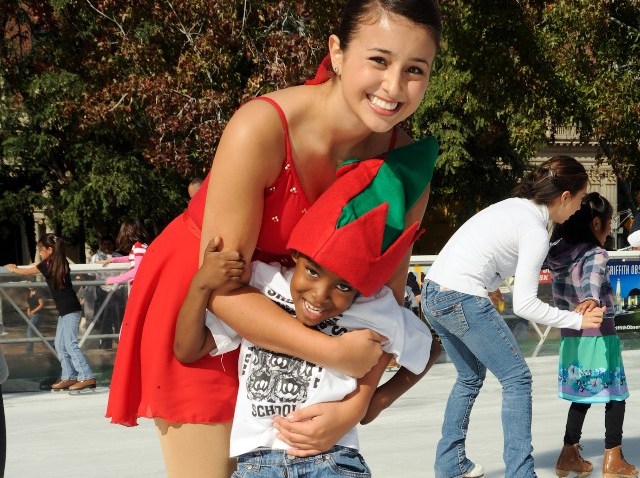 Holiday movies from a certain era -- let's call it the era where men broke out into song at the mere drop of a fedora -- have a few things in common. There's the cameo by the man in red. There's a whole lot of toy train action going on. And the center of the action? Tends to be downtown.
Doesn't matter what city the film is set in, downtown is where all the tinselly to-dos happen. (Yep, we're thinking of "Miracle on 34th Street" and about a dozen others.) So when we hear that Pershing Square's annual ice rink is set to open, we nod and think "yes, this is right and this is good. This is how the movies said it should be. Holidays do happen downtown."
The kick-off is on Thursday, Nov. 17, and if you know your Downtown on Ice, you know that it will enjoy a long, two-month run. Meaning that if your own holidays are too hectic, you have about two weeks in January to enjoy some relaxing ice skating.
But you probably want to go before then, right? Wear your red-and-green scarf and do some pirouettes? Like in the movies? No telling if you'll meet your future spouse -- hi, we've seen a few romcoms -- but you just might.
Skating is six bucks, skate rental is two. There'll be a bunch of special events, too, so keep an eye on the Pershing site. And a fun note: Downtown on Ice is open on the holidays proper (though special hours are in effect). Too much turkey? Lace up and glide.
Follow NBCLA for the latest LA news, events and entertainment: Twitter: @NBCLA // Facebook: NBCLA
Copyright FREEL - NBC Local Media