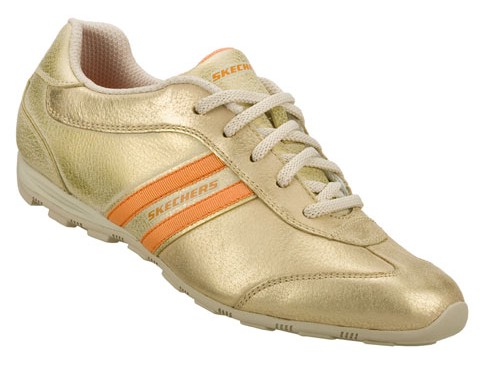 The Skechers Pier to Pier Friendship Walk is just ahead, and it got us to thinking about the shoe-and-other-wearables company. Not just thinking, but clicking over, to see what's new.
What's new? Well, lots, but we're looking at these golden sneakers with fully retro'd-out stripe. The shoe is called the Iconic, it also comes in silver, and the price is $55.
And about that walk. You of course *don't* need to wear Skechers to participate -- if you did, though, it would be quite meta of you -- but you do have to head to lovely Manhattan Beach on Sunday, October 25th. The stroll goes from Manhattan Beach Pier to Hermosa Beach Pier, along the Strand, and then back to Manhattan Beach.
The beneficiary is The Friendship Circle, which assist special needs children and their loved ones. Another aim of the walk is to raise funds for schools around the area.
Wear your Skechers or not, but do participate in this fine day out at the beach, a day with purpose at its heart.