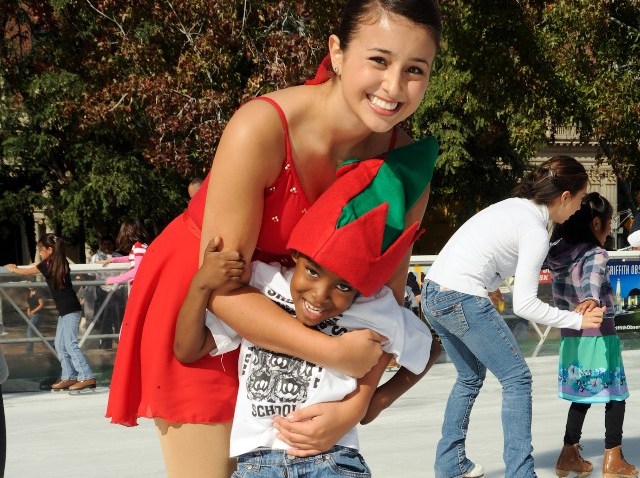 Attention, people who find it difficult and strange to strap on ice skates when it is positively roasting out. Weather, as in a damp, mitten-ready weather, will be descending upon Los Angeles just in time for Downtown on Ice's opening weekend.
Of course, if you find your weather wishes a bit *too* fulfilled over opening weekend, take heart that the Pershing Square ice rink will be open through Jan. 17, 2011. Bet we'll have one or two sunny, perfect days between then.
(One or two? Oh, we laugh, in spite of ourselves. Sorry, other places everywhere. Come enjoy our pretty days with us.)
Mayor Villaraigosa and The Rockettes are scheduled to show at the Thursday, Nov. 18 opening of the rink.
The cost to skate is $6, and $2 for skates, if you don't have your own (there's a survey we'd like to see; how many locals own ice skates. We hope it is high.)
But the people behind the seasonal skatery also advise to watch for the bevy events scheduled throughout the two-month run. It is Downtown on Ice's 13th twirl, so the organizers have certainly learned what people like when it comes to playing at the rink.
And yes, we do like weather, but not too much, at least out on the rink.
Copyright FREEL - NBC Local Media