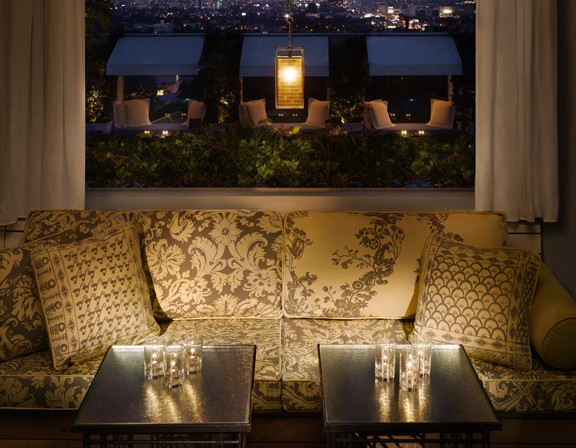 In a megalopolis, and era, when everything is full-speed ahead, now, nower than now, we like hearing about groups and places and nights that sloooow it down. Way down.
Especially when that night falls on Valentine's Day. And especially when the location can be found on one of the trendiest, move-forward stretches of all of LA Land.
Skybar at Mondrian is throwing a Slow Dance Party on February 14th. Think arms thrown around the neck of someone special, or placed at the waist (not too low). Think feet kind of shuffling in unison, sort of. And think classic, heart-on-the-sleeve songs all about old-school emotions and romance.
We don't think Skybar will be hanging crepe paper and half-inflated balloons around the place, nor will it have that certain gym smell you may remember from slow dances of your youth. But, the city views? And the upscale vibe? Those will be there.
Call the hotel for details (there's also a special V Day dinner going on). We read that "Time After Time" by Cyndi Lauper is the type of music to expect. If that doesn't have you running down to the florist for a baby's breath-loaded corsage, we can't imagine what will.
Copyright FREEL - NBC Local Media