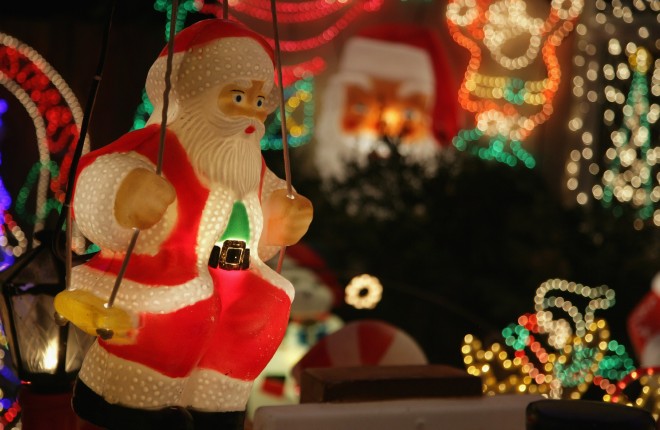 The lights drive is a holiday tradition more fiercely guarded in some families than who gets the turkey wishbone and who has to wear the fake reindeer antlers for the annual picture. Los Angeles has several twinkly spots -- many in neighborhoods that never receive a shout-out -- that either make for a brief spin (a few houses here and there) or a full-on night. Here are a few you might not have seen this year, or you might want to eye again before the inflatable snowmen come down off the roof:
DWP Holiday Light Festival: The grandest glow-fest of the season, right in Griffith Park. Shuttle bus service is available from 5-10PM from the parking lot of the zoo. We like the large scale of the displays, and the recognizable landmarks. Upshot? Cheery. Very.
Neighborhood Tours: Outdoing the guy next door at Christmas gets a bit more competitive every year. It's a good competition, and the winners? The bundled-up viewers who drive by to admire. Check out these sparkle spots, from Burbank to Torrance.
Hotel Holiday: Several hotels do it up with gewgaws and bows and whatnot. Our pick for bedazzlement is The Mission Inn in Riverside. The lifelike carolers who stand on various levels around the building? Marvelous.
House too cozy to head out? Check out tons of lights here. No gas spent, plenty of oohing and aahing.
Copyright FREEL - NBC Local Media