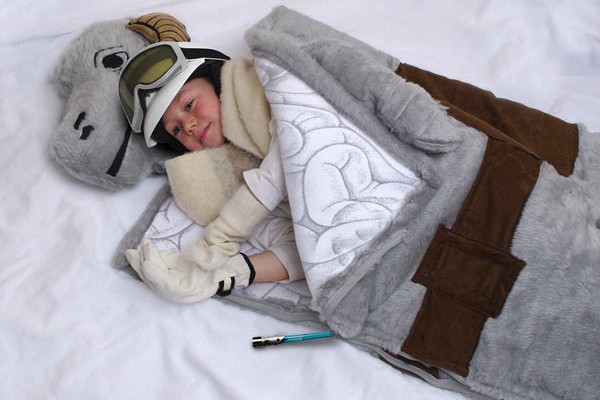 Even if you haven't seen "Empire Strikes Back" for nearly three decades (hard to believe the intergalactically popular epic turns 30 soon), you remember the scene: Han Solo slicing open a furry, dead, mythical beast (with a lightsaber, of course) so that a nearly frozen Luke Skywalker would have a warm, steamy place to weather the cold. It was visceral, it was gross, it made kids (and their parents) recoil in delight. We also wanted a Tauntaun after that, but our parents never bought us one. Sigh.
We like "Empire" and we well remember that scene and we didn't realize how cruelly Tauntaun-free our life had become until we spied a Tauntaun sleeping bag over at ThinkGeek.com. It's funny -- see, like Luke, you sleep *inside* the Tauntaun -- cinematic, and created expressly for wee "Star Wars" fans; we're hoping an adult version may be on the market soon. Sell those babies at Comic Con and we're predicting a mint will be made.
This is LA. You know a movie fan, probably. You are a movie fan. You like slumber parties. You have a sense of humor. Maybe, even, you're a Tauntaun? We can see this product being popular with several sectors of society. Cue the "Empire" music...
Copyright FREEL - NBC Local Media