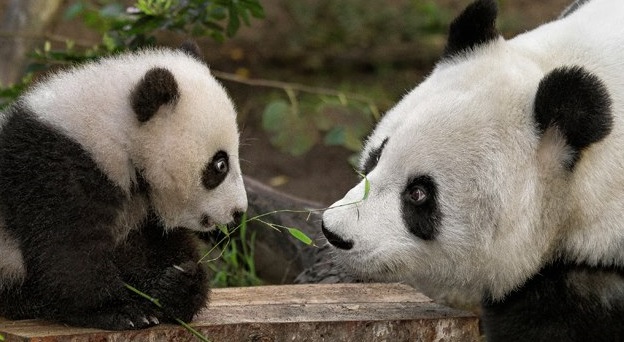 BALBOA PARK BRRR: When one thinks of springtime around the San Diego Zoo, one thinks of visitors in shorts and tank tops and the occasional sandals (if that early May Gray-type weather is kept at bay). But snow? One does not think of that. In fact, one does not think of San Diego and snow at all, at any time of the year (we're not talking to you, Julian; we know you're not far and that you do get the white stuff). On occasion, though, loads of frosty flakes are trucked in for an animal's enjoyment. The polar bears and snow leopards are obvious candidates for a snow day, but so are the pandas, who've enjoyed a frosty frolic in temporary snow in the past. Except for Xiao Liwu, the zoo's famous baby panda. He's never seen the stuff, but he will, when the San Diego Zoo throws a snow day for the pandas on Tuesday, March 19.
COLD STUFF: Both Xiao Liwu and his mom will get the snow treatment, as will Xiao Liwu's father, Gao Gao, who lives in a separate exhibit. Who's footing the frigid bill? Zoo donors.
FIRST EXPERIENCE: How will a baby panda react to his first snow? Well, think of the first time you saw it, if you can remember, or think of your kids' first trip to the mountain. It's a rather weird but ultimately wonderful experience. If the paws don't get too cold.
PLAY DAYS: If you like your San Diego Zoo less brrr-y, though, the spring break-ready Play Days kick off at the zoo on Saturday, March 23. Much toastier than a pile full of panda-riffic snow, for sure.
Copyright FREEL - NBC Local Media