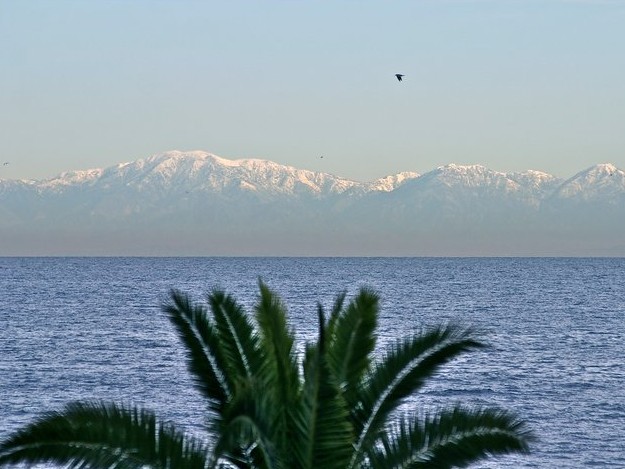 Seriously, what kind of Shangri-La do we have here?
Southern California can sometimes rival Middle Earth for mythical juxtapositions of sea and snow and sky. Take this photograph, which was just posted by the Catalina Island Company on its Facebook page. The picture was taken on the island, of snow on the mountains across the way (across the way being, of course, 22 miles-ish across the Pacific).
And there's an iconic, perfectly frondy palm in the picture, to cap it off. It brings to our mind that famous postcard of downtown Los Angeles, looking sunny and sparkly, and the San Gabriels behind the skyscrapers, looking lush with snow.
Or the view you sometimes get in the winter from that certain spot on the 405, near Worthington Ford. Rows of palms and snowy peaks. We'll call it dang breathtaking and we'll call out anyone who calls us on it.
Anywho. Maybe we're not directing this missive to lovers of snow and sea so much as the denizens of Middle Earth. You still own the patent on mythical landscapes, Middle Earthlings, but Southern Californians are definitely working on catching up.
Copyright FREEL - NBC Local Media