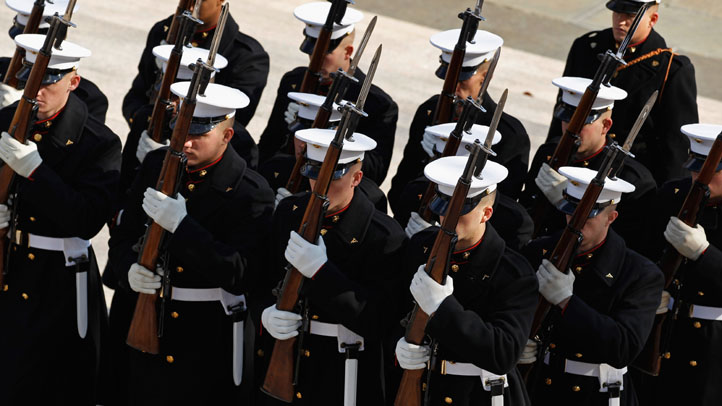 Events in the Southern California area honoring veterans include:
Burbank
Monday, Nov. 12:
A Veterans Day ceremony will be held at McCambridge Park War Memorial (corner of San Fernando Road and Amherst Drive) at 11 a.m. Event Link
Granada Hills
Sunday, Nov. 11:
The Granada Hills Rotary Club and the Veterans of Foreign Wars Granada Hills Post are holding a Veterans Day Celebration at the Granada Hills Veterans Memorial Park. The event begins at 2 p.m. Event Link
Hollywood Hills
Sunday, Nov. 11:
Forest Lawn-Hollywood Hills is hosting a Veterans Day Ceremony beginning at 11 a.m. at 6300 Forest Lawn Drive. Capt. Justin L. Babcock is giving the keynote address and LA County Sheriff Lee Baca will give the Pledge of Allegiance. The Lake Elsinore-based Golden Stars Skydiving Team will make a jump. Admission is free, and souvenirs will be given to all attendees.
Huntington Beach
Sunday, Nov. 11:
Huntington Beach plans to honor its veterans with a ceremony at Huntington Beach Pier Plaza at 11 a.m. Event Link
Irvine
Sunday, Nov. 11:
"The second annual Orange County National Veterans Day Run will begin and end at the Woodbridge Community Park in Irvine, CA. The race will offer two distances: a timed 11k and a 1-mile charity walk." For entry fees and race updates, visit Los Angeles National Veterans Day Run for more details. Event Link
Long Beach
Sunday, Nov. 11:
Veterans -- along with active military personnel, police officers and firefighters -- are admitted free at the Aquarium of the Pacific (100 Aquarium Way), with valid service ID from 9 a.m. to 6 p.m. Event Link
Malibu
Sunday, Nov. 11:
The annual Veterans Day ceremony will be held at Malibu Legacy Park starting at 11 a.m. Event Link
Manhattan Beach
Sunday, Nov. 11:
The 15th annual Veterans Day multi-generational event will be held at the Veterans Monument in Manhattan Beach at 11 a.m. Event Link
Mission Hills
Sunday, Nov. 11:
The San Fernando Valley Veterans Day Parade starts at 11:11 a.m. at San Fernando Mission Boulevard and ends at Laurel Canyon Boulevard. "In recent past, the parade has involved more than 120 veterans groups and numerous high school marching bands and the San Diego-based Navy Band Southwest. All of the wartime eras will be specifically represented (from WWII to Iraqi Freedom and Enduring Freedom in Afghanistan)," according to organizers. Event Link
Moorpark
Sunday, Nov. 11:
A Veterans Day observance will be held at the Veterans Memorial (corner of Spring Road and Flinn Avenue) at 10 a.m. to honor men and women who have served and are serving our country. The keynote speech will be presented by Cmdr. Christopher McAnally. Event Link
Palm Springs
Sunday, Nov. 11:
The 16th annual Palm Springs Veterans Day parade begins at 3:30 p.m. in downtown Palm Springs. This year's theme is "Honoring All Who Served." Fireworks are scheduled following the parade. Event Link
Pasadena
Sunday, Nov. 11:
The Veterans Day Memorial Tribute & BBQ begins at 10:30 a.m. in Memorial Park. "This commemorative service will include live music, a low altitude flyover by the Condor Squadron at 11:11 a.m., bugling demonstration and more. …This event is followed by the Pasadena Senior Center's Veterans' Day Salute and BBQ. $1.00 per person with pre-paid reservation / limited to 100." Event Link
San Pedro
Saturday, Nov. 10:
The Veterans Appreciation Festival goes from 1 p.m. to 4 p.m. at the USS Iowa, Berth 87. The event is presented by LA Mayor Antonio Villaraigosa, Councilman Joe Buscaino and more than 50 local veterans groups. Admission is free, and the event will have food, entertainment and a resource fair. Event Link
Simi Valley
Monday, Nov. 12
The Reagan Presidential Library is hosting its annual Veterans Day event from 10:30 a.m. to 3 p.m.: "In addition to a program honoring all branches of our military, the day's activities include live musical entertainment by the Santa Susana High School Symphony Orchestra and Vocal Ensemble, Civil War re-enactments by the Washington Artillery of New Orleans (includes cannon and artillery demonstrations, as well as a display of hospital, civilian and cavalry tents for exploration), and a display of World War II and current military vehicles. And don't miss the North American AT-6 Flyover by the Condor Squadron at 10:30 a.m.!" Event Link
Various Locations
Veterans Day Weekend
Entrance to all national parks and national forests is free for Veterans Day Weekend. Event Link