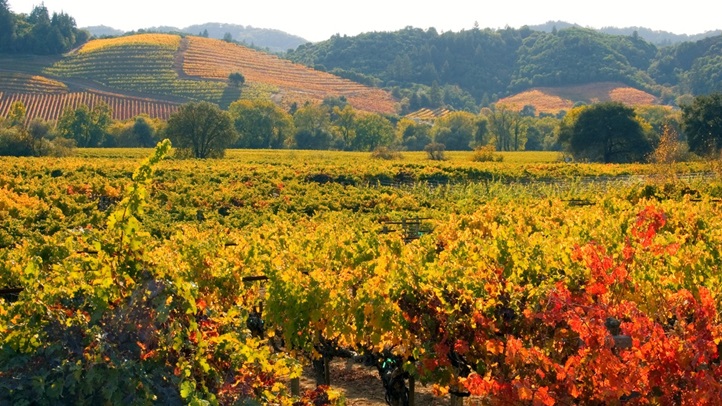 THERE ARE MORE PORTS THAN PORTHOLES... in wine country, we can safely say, but there isn't a winery fan around who doesn't wish for a magical doorway from time to time, one that connects their city with a beautiful wine country several hours away. That enchanted entry doesn't have to be shaped like a porthole, of course -- it can be a window or wormhole in your mind -- but the fact is the fantasy exists: Our day-to-day can be a little bogged down, locally, but getting to a glorious patch of vines and sunshine isn't always in the time/money cards. Sometimes, though, if we wish hard enough, a whole bunch of wineries from a particular, and particularly pretty, part of California will just up and go somewhere else, for the day. The buildings and vineyards stay put, of course, but the bottles of fine vino are packed up for a road trip. If you're a maven of Dry Creek wines, and Sonoma County sips in general, but you find that life is keeping you close to LA, you're in lucky luck, if you're over 21 and you can get to Culver City on Saturday, Feb. 20. It's...
DRY CREEK VALLEY ON TOUR, which is connecting over 25 Dry Creek wineries with their fans around Southern California. The place is Smashbox Studios, the general admission ticket is $140, and WineLA is the producer of the glass-filled gathering. Ridge Vineyards, Frick Winery, and Ferrari-Carano Winery are just three of the Dry Creekers who'll be talking reds, whites, tannins, and tones, and a number of NorCal and SoCal-based bites'll be flavoring up the food end of things (why hello, Cowgirl Creamery). Who's the beneficiary of the silent auction? The T.J. Martell Foundation, which "funds innovative medical research focused on finding cures for leukemia, cancer, and AIDS."
TO BE A PART OF THE AFTERNOON AFFAIR, best purchase your admission now. Info and such? Here. A magical porthole to vineyards well north of LA? Not invented as of yet, but Dry Creek Valley is nicely shoring up the miles, as least for a day.
Copyright FREEL - NBC Local Media