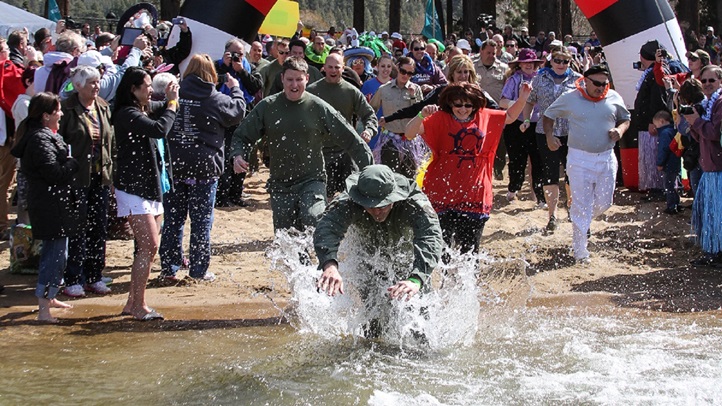 POLAR PLUNGE TIME, at least in many parts of the world, coincides, in chilly and optimistic fashion, with the first day of the year. Groups of people will don their bathing suits on New Year's Day and find the nearest body of brisk water to dash into, and while they don't spend much time splashing about, the move is a bold one. And oftentimes, an important and community-minded move, too. For Polar Plunges aren't simply about doing something a bit wacky for the sake of being wacky; they oftentimes raise much-needed funds for a local or regional non-profit. And one of the biggest of the Polar Plunge fundraisers is still on the horizon, on the last Saturday of wintertime. You may ponder if a March Saturday is as cold as New Year's Day, but, at Lake Tahoe, the waves are still mighty brrr-inducing at that time of year. And it is at that time, on Saturday, March 18, 2017, when a caboodle of swimsuit- and costume-rocking plungers'll hightail into the water at Zephyr Cove Resort. The South Lake Tahoe Polar Plunge will again raise money for the...
SPECIAL OLYMPICS... of Nevada and Northern California, via the contributions of "individuals, companies, law enforcement, families, schools, and organizations." Which means that even if you aren't plunging as a group, you and a friend can sign up, or you can even go it on your own. It all happens at 10 o'clock in the morning, before the sun has had time to lend much warmth to the lake, so, truly, the South Lake Tahoe Polar Plunge very much earns the "polar" in its name. And after you towel off, and enjoy a hot buffet at the MontBleu Resort Casino & Spa (which is part of the registration package), you can gaze back at the lake and think how you really did it: You plunged.
AND YOU'LL KNOW... that the money you raised for the event will support an organization that helps to "...showcase the capabilities and achievements of individuals with intellectual disabilities..." via the "...free year-round training and sports competition..." Special Olympics has made a positive difference in so many lives over the decades, and fundraisers like the South Lake Tahoe Polar Plunge truly are an essential part helping the group do what it so wonderfully does throughout the calendar. What's one quick plunge in Lake Tahoe at the end of winter? Sign up now. And if you can't make Tahoe on March 18? There are several others around Northern California that also support the many programs provided by the Special Olympics Nevada and Northern California.
Copyright FREEL - NBC Local Media