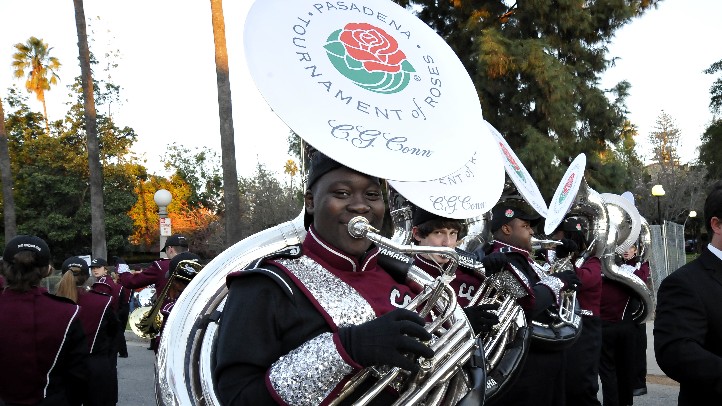 Every parade enthusiast can name the one act or feature that simply passes too fast.
For some, it's the floats. Others want to spend more time with the Grand Marshal. And still others love to gaze upon the saddled set.
But a lot of people long for a longer moment with the bands. After all, regardless of where you sit on a route, you'll likely only hear a portion of a song (cheers to the bands that stop and linger for a whole set).
But Bandfest is all about stretching out that special moment. It's a two-day party spotlighting the marching bands of the Rose Parade, meaning fans can sit in the Robinson Stadium stands at Pasadena City College and get all the brassy, beautiful music they need.
The most musical of the Tournament of Roses events is scheduled for Friday, Dec. 30 and Saturday, Dec. 31. There will be three sessions of band playing over the two days, and you can bet some buffs'll be at each one. The bands are "award-winning," say the parade organizers, so count on seeing some sharp choreography and some spangly, crisp uniforms (yep, we love the uniforms so).
Admission to a session is $15. For parking info and times, check out the Tournament of Roses site.
Follow NBCLA for the latest LA news, events and entertainment: Twitter: @NBCLA // Facebook: NBCLA
Copyright FREEL - NBC Local Media