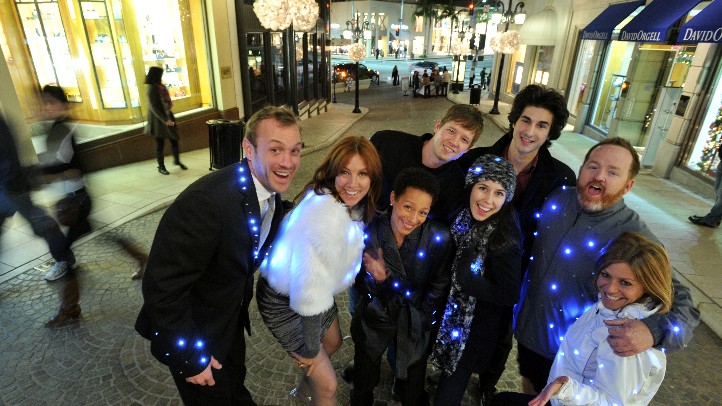 We don't think Beverly Hills has trademarked the word "sparkle," but we bet the city could make a run at it, given how often the word shows up in Beverly Hills-based descriptions.
Rings in jewelry shop display cases sparkle. The stars spied strutting around the city sparkle. Sequin-swank outfits sparkle. The windows along Rodeo, well, yep, do a certain thing starting "sp" and ending in "arkle."
So that the Bev Hills has dubbed its annual seasonal party Sparkle makes sense. It is, after all, set in a particularly sparkly district. It does involve dozens of sparkle-bearing stores staying open late and serving things like bubbly. It does involve carols and carriage rides and, yep, faux snow over Rodeo.
You've heard the traditional opening to "White Christmas," yes? And you know that the city gets name-checked for *not* being a snowy spot? So we love the twist.
The dates still to go on the snow and sparkle are Thursday, Dec. 8, Friday Dec. 9, Thursday, Dec. 15, and Friday, Dec. 16. It's free to attend. (Which puts sparkles in our own heart.)
And we realize we called the city "Bev Hills" before. We're not trying to be overly familiar. It's just that we think the 90210 likes it when people don't take its world-famous tony image too seriously. Hence the nickname. Right, Bev Hills? You're one of us, right? We'll be right over to carol with you soon.
Follow NBCLA for the latest LA news, events and entertainment: Twitter: @NBCLA // Facebook: NBCLA
Copyright FREEL - NBC Local Media