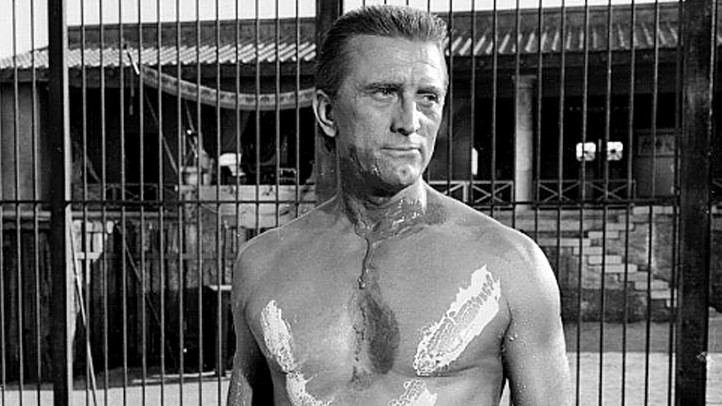 What must it be like to put your hands and feet into wet cement in front of Grauman's Chinese Theatre?
It's truly a privilege that only a few will ever enjoy. But think of how it must feel to return, decades later, to visit your prints? Does it seem like a dream?
Perhaps Kirk Douglas can speak to that when he stops by the famous forecourt on Tuesday, June 12. His handprints and footprints have been refurbished, so he'll check in to see how they've been doing over the last half century (yep, he made his cement pressings in 1962).
Oh, and should we add there's a chinprint on his square as well? Of course there is.
The movie star'll also be there to celebrate his new memoir "I Am Spartacus! Making a Film, Breaking the Blacklist," and the Chinese Theatre will celebrate, too, with a special screening of "Spartacus."
And wait for it: Your ticket fee to see the famous film is a quarter. Yep, twenty five cents. We were about to type "1962 prices" but that even seems a bit cheap for 1962.
The rock-bottom ticket price is in celebration of the landmark's 85th birthday; special events and screenings are happening throughout the year.
Even if you can't make the 7 p.m. film, be sure to swing by the forecourt around 6 p.m. on June 12 and wave at Mr. Douglas. How fun to visit your special cement square five decades later. Okay, Hollywood, you do bewitch from time to time.
Follow NBCLA for the latest LA news, events and entertainment: iPhone/iPad App | Facebook; | Twitter; | Google+; | Instagram; | RSS; | Text Alerts | Email Alerts
Copyright FREEL - NBC Local Media