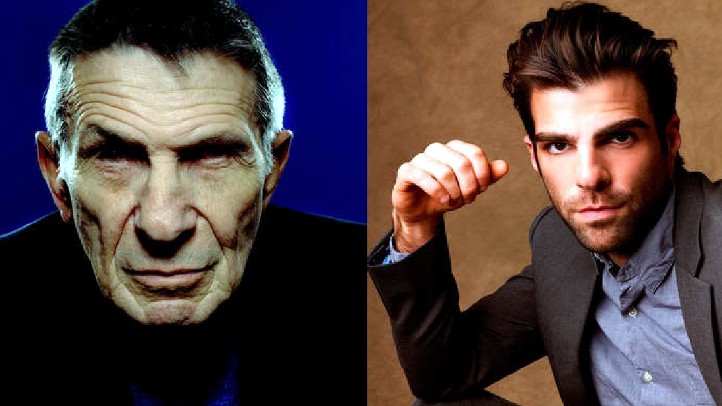 Vulcan meeting Vulcan? Not so uncommon. It's happened before, in fact, numerous times, over several reiterations of "Star Trek." Conversations deal with universal themes and human quirks and such.
But actors who have played Vulcans getting together to chat about photography? Much less common. That, however, is exactly what will be happening at the Hammer Museum when Leonard Nimoy and Zachary Quinto meet to talk about "Secret Selves," Mr. Nimoy's mythology-inspired photography project. The date is Tuesday, Sept. 13. Time is 7 p.m.
Why mythology-inspired? Mr. Nimoy "asked subjects to reveal their hidden halves in front of his camera." Certain Zeusian themes are present in the project, and the nature of the dual self. Which, of course, is a charming topic for two men who've embodied the same character to take on. (Mr. Nimoy, of course, has been Spock for the better part of a half century; Mr. Quinto starred as the big-brained Vulcan in the 2009 film.)
This is a free event -- parking is three bucks downstairs after 6 p.m. -- and the museum is not taking reservations. Meaning early arrival is key (or, better yet, be a Hammer member for that sweet priority seating).
Who makes up your two selves? Who is the second self of Spock? We want to say Kirk here, but then that's an entire other post, or, perhaps, series of posts.
Oh, "Star Trek." How you do provoke and bewitch that center of deeper thought.
Copyright FREEL - NBC Local Media