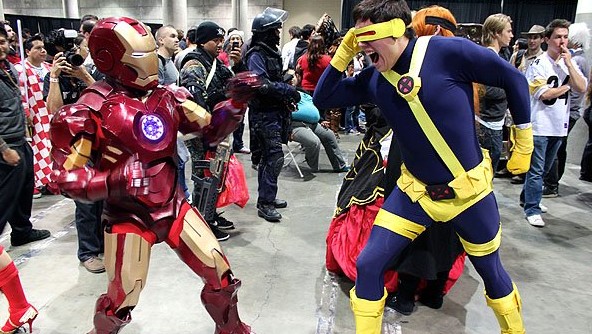 If you were going to launch a comics and pop culture convention, what name would you want above the title?
Did you just say Tony Stark? Or Peter Parker? Solid choices, both, but we're talking a real person, who isn't fictional, who has made legendary contributions to all things genre and specifically comic books.
You just thought "Stan Lee," right? Everyone would probably think Stan Lee there, of course; the dean of comics, the co-creator of Spiderman, and the maven of Marvel is the single person most associated with bringing the form to new heights and into the mainstream.
So when Mr. Lee launches a comics convention, as he did in 2011, fans turns up, to the tune of 35,000 people turning up, for its debut. So it was no shocker that Stan Lee's Comikaze Expo had the largest comic-convention debut in the world.
It's set to roll -- or, erm, leap from skyscraper to skyscraper -- for its second year on Saturday, Sept. 15 and Sunday, Sept. 16 at the Los Angeles Convention Center. A ticket is $20 for a day -- little Spideys 12 and under get in free -- and organizers are expecting close to double the number of people last year.
Genre favorites like Elvira and Todd McFarlane'll be there, as well as the master of ceremonies himself. Comic sellers, wandering zombies, gaming events, and, yup, cosplay are part of the days.
Cosplayers, you know it'll be like a zillion degrees over the weekend, right? Okay, maybe more like the 90s. We're just saying, put a fan *inside* your Iron Man clankity-clank suit, if possible. There'll be AC inside, natch, but that walk from the parking lot might get damp.
(photo: Jay West)
Follow NBCLA for the latest LA news, events and entertainment: iPhone/iPad App | Facebook; | Twitter; | Google+; | Instagram; | RSS; | Text Alerts | Email Alerts
Copyright FREEL - NBC Local Media