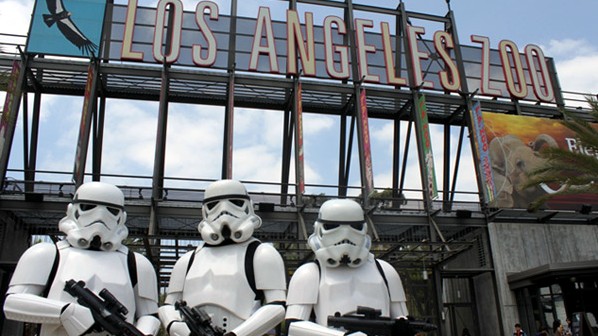 If you're a "Star Wars" fan, and you adore animals, you have surely, 100-percent, absototallylutely played the following parlor game we're about to describe.
It involves talking about the famous furry characters in the film and picking their perfect real-world counterparts. A Wookiee? C'mon. Totally Brussels Griffon! Totally. The beard. The quizzical head tilt. The staring eyes. Wait. The Brussels could be an Ewok, too. And the wee dog is closer to an Ewok's size. Well. This is why we call it a parlor game. There are no set answers.
But answers will be firmer at the LA Zoo on Saturday, Aug. 27. That's when people who know the Lucas films and know their cute creatures will take to the zoo's walkways to discuss what inspired what in the famous series. Koala and Ewok comparisons will be made (yep, see that) while the special Hippo and Jabba the Hutt connection will be pondered and mulled over (okay, we'll go with it).
Plus Darth Vader, R2D2 and other characters will be hanging out in the eucalyptus grove. We're feeling the Force already, or at least a very pleasantly scented breeze. Ah. Eucalyptus. Is this what deep space smells like?
Price to get in is zoo admission. Check out the whens and wheres to make sure you're there to get the info on your favorite "Star Wars" icon.
Copyright FREEL - NBC Local Media