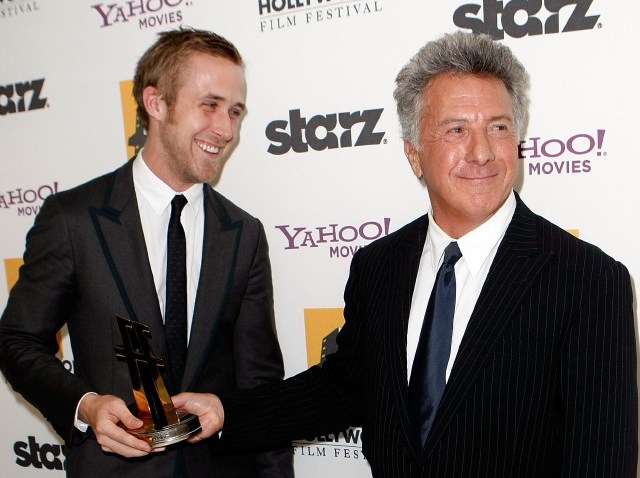 Appearances by big stars on both sides of the camera and soon-to-be big films made by tomorrow's household names are two hallmarks of the Hollywood Film Festival, which opens on Wednesday, October 21st. Actors like Ryan Gosling and Dustin Hoffman showed last year (pictured); who's on tap for '09? Probably luminary-type people. Not probably, definitely.
The films come from points all over the globe; the subject matter is both serious and lighthearted. Here are a few highlights (we recommend checking out the full schedule of films running at Arclight Hollywood October 23-25th):
We are VERY intrigued by "The Assistants," which screens on October 25th at 3PM. It's about a group of assistants who try and make their own movie. You've been an assistant in this town. We have. We all have. You want to see this one. And "Interplanetary" looks right in time for Halloween. You're on a planet, it's your job to be there, then pow! Bad stuff starts happening. That's at 9PM on Friday, October 23rd.
We should add that HFF is flush with shorts as well as full-length features. Is there anything equal to the pleasure of watching a really fine short film? We call it seven minutes of celluloid heaven. And we're guessing you get that feeling, too.
Hollywood Film Festival 2009 runs October 21st-26th, with the bulk of the movies screening October 23rd-25th at ArcLight Hollywood.

Copyright FREEL - NBC Local Media