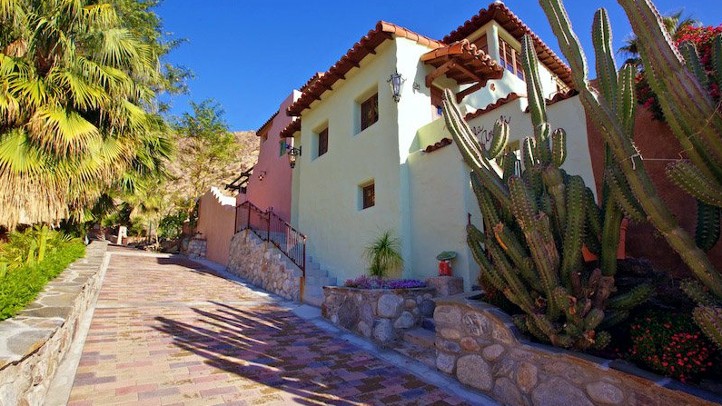 WHERE'S OUR EASEL? Very often, as we go about our day-to-day duties and various errands, we pause to think "why aren't we living in some cool art colony, the kind that became so popular back in the '20s and '30s?" Then we think "why aren't we sitting at some easel, holding a paintbrush, while wearing a fabulous scarf and brooch?" And then we think "oh, right, we can't paint and it is no longer the '20s." And then we finish our errands and head home. But it turns out the places that used to house former art colonies do still exist, including the wonderfully named Colony 29 in Palm Springs. It was built by John Burnham and was frequented by many a person who could hold a paint brush and wear a brooch and sit before an easel. The big news for Palm Spring lovers and art colony lovers and desert devotees is that Colony 29 just debuted as a vacation destination.
FIVE BEDROOMS: The rather regal main residence if five bedrooms, but the property is much larger; you'll want to read about the various buildings and functions. We just want to click through all the photos, three times, and pretend we're living there and throwing pots (on a pottery wheel, of course; not, like, off the terrace). McClean Company Rentals is behind the property. Oh, and John Burnham, the colony's founder? World's Fair fans will recognize his surname; his father, the architect Daniel Burnham, oversaw the buildings of the 1893 World's Fair in Chicago. That's some serious art world cred right there.
LASTLY: Shouldn't every grand manor have a name? We're quite sure we'd never think up one that's as sci-fi and fictionally fabulous, though, as Colony 29. Is Colony 30 available?
Copyright FREEL - NBC Local Media