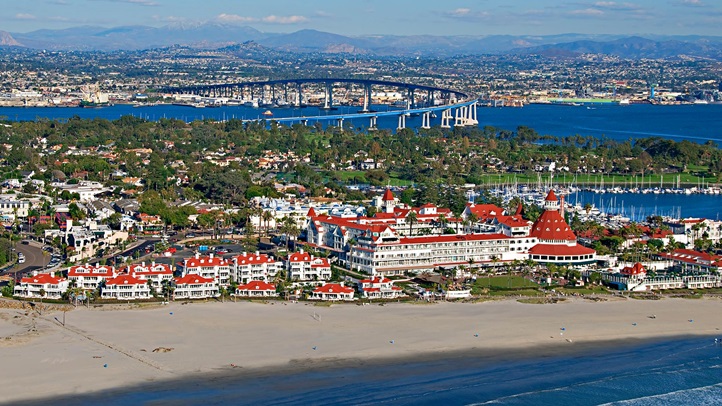 HOTEL HOLIDAY: A number of venues around our cities truly transform starting around Thanksgiving. Bows and boughs and baubles go up, as do trees and menorahs and castles and miniature indoor forests, and a place you've seen a number of times throughout the year takes on a whole new, Noel-y look. But while shopping malls and theaters are fairly easy to visit during the festive season, a hotel is an entirely different matter. Yes, you can peek in the lobby and admire the decorations, but many people are dissuaded, in their own minds, from this, believe that an overnight stay is required. "Why visit a hotel if you haven't got a room booked," is often the thinking. Hotel del Coronado, the red-turreted grand dame of San Diego, wants to switch that line of reasoning up. They tend to do it up over the yuletide season, you might have heard -- comical understatement at work there, fyi -- and they're inviting overnighters as well as revelers who have no intention of bunking down at the hotel to enjoy all the festivities.
TWO "DAYTIME' PACKAGES: Indeed, the hotel is offering "day" packages during the holiday season to guests not planning on a stay. It's rather wonderfully discombobulating, a hotel that is like "come for a day, not a night!," so pause to wrap your mind around it. Mind wrapped? Good. The Del Family Experience includes ice skating passes for two adults and two kids, s'mores on the beach, a hefty dining credit, and more. The Del Romance Experience also has ice skating, for two, as well as massages and more. Weekend day rates are higher, natch. Tempted? Want to do the Del at the holidays without packing a suitcase? You can.
BY THE BY... you do know the Del's ice rink is ocean-adjacent? Please. Other ice rinks everywhere must dream of being that ice rink, at least for a day.
Copyright FREEL - NBC Local Media