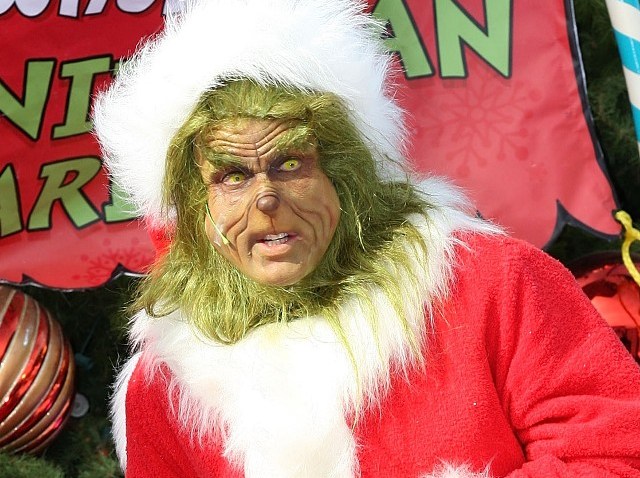 Let's just get one thing straight: The Grinch is the major headlining star here.
We don't want the mean one mad at us. His red-hatted furry-o-sity rules when it comes to Grinchmas, the 18-day holiday spectacular Universal Studios Hollywood stages in over-the-top fashion on each year. The cranky Dr. Seuss favorite oversees the snow, the singing, and Max's muttly high jinks, too, and doesn't like people mining his mojo.
But a few other stars will be sharing the spotlight during the 2010 Grinchmas run. Why? Several celebrities will be stopping by the park to do nightly readings of "Dr. Seuss' How the Grinch Stole Christmas" and to rev up the general yuletide cheer. And you can now find that fa-la-list online.
Oh look, Jeffrey Tambor. Will he bring a bit of "Arrested Development" zing to the oft-told Christmas tale? We hope.
Brandy is also on the list, as are Stephen Moyer and Fred Willard.
Hoo boy. Stephen Moyer. Thought we'd just go ahead and say it for you. But will he give the Grinch a vampire-ish spin?
If you want to make sure you're there on the same night as Brandy or Mr. Moyer or Willard, check this calendar. Grinchmas opens on Dec. 11. Oh, and ho ho ho.
Copyright FREEL - NBC Local Media