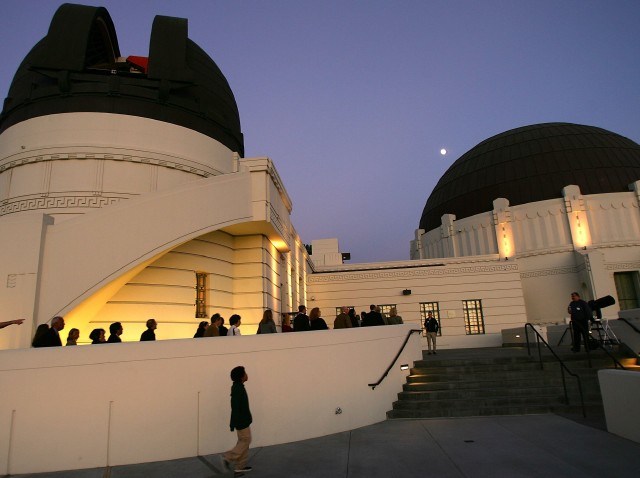 The lovely Leonids event a couple of days back has you looking up, we trust? We want to keep the cosmic wonder going, too.
Which makes us pleased that Griffith Observatory, that gorgeous, aging-very-well movie star (see: "The Rockateer"), will be throwing open its lawns as well as some visiting telescopes on Saturday, November 21st for a free public event. While we're kind of cosmos-crazy for all of the Observatory's programs, the sort-of-monthly to-do is especially choice, as it gets visitors out into the open and looking upwards (be sure to also look northwestwards at the Hollywood Sign, which looms nearby).
Telescopes will be set up out on the grand lawn, and various astronomers from the Los Angeles Astronomical Society will be standing nearby helping people find the Big Dipper and various constellations (okay, question: Does it seem like the Big Dipper the only constellation everyone can find without help?). We're just waiting to gaze up there and see someone wave back.
The free day stretches from 2-9:45PM on Saturday, November 21st. We're curious about what can be spied at, say, 3:11 in the afternoon. Some interesting, gaseous, planetary stuff, we're betting.
Copyright FREEL - NBC Local Media