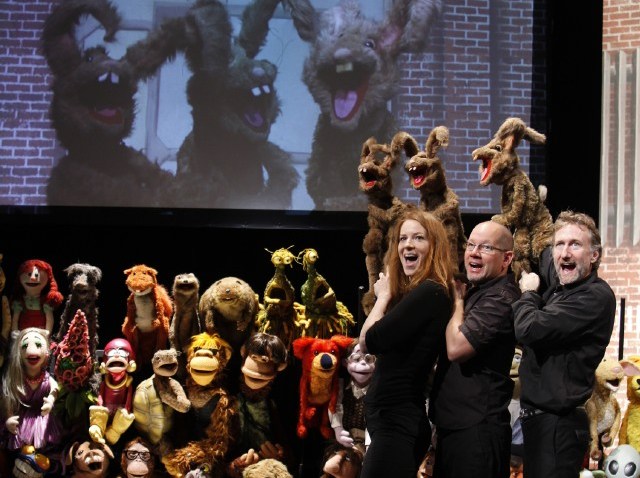 Look, New York, we don't want to get into it with you.
We're so not about the whole New York-Los Angeles competition "who's better" thing. Yawners. We prefer to see us as competitive, sometimes judgmental but ultimately loving BFFs. Right?
But you are getting "Stuffed and Unstrung," the new improv-tastic made-for-adults puppet extravaganza from the Henson Company. Actually, from Henson Alternative, an arm of the Henson Company, so that name alone should tell you how made-for-adults-y the show is.
It's opening on March 17th at the Union Square Theatre. Jealous.
But like a hand wiggling up a piece of felt, we wiggled our way into the sneak preview in Hollywood over the weekend. We've vowed we won't give much away, and because we don't want a puppet showing up at our door in the middle of the night, angry-like, we won't, except we will say that the annoying person cackling in the back every three seconds? Us. But then there was a lot of cackling going down.
Because. Naughty puppet improv. Saucy talking corn dogs. Bad bunnies up to no good. Randy puppet ladies in boas. A weird-eyed, soft-voiced pug in diapers. And a troupe of talented puppeteers (including Brian Henson, son of Jim).
If you saw "Puppet Up" from Henson Alternative, which would run every so often at Avalon Hollywood, you know. YOU KNOW. New York, go.
And dear Henson, please bring it back to Los Angeles for a good long run. Don't make us waggle our arms all frantic and Muppet-like in your general direction.
Come back soon.
Copyright FREEL - NBC Local Media