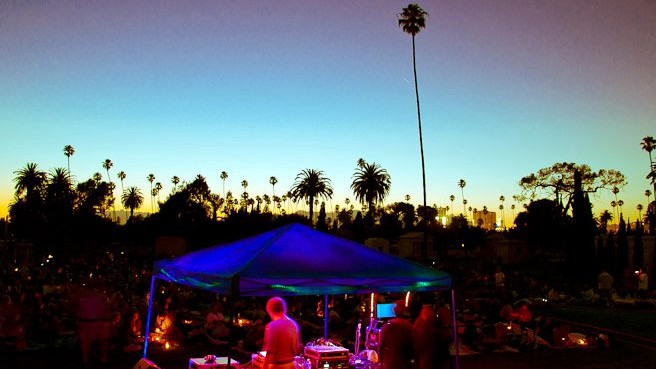 You likely heard that "Ferris Beuller's Day Off" recently screened at Wrigley Stadium, in honor of the film's 25th anniversary.
What a perfect setting; after all, Ferris & co. paid a visit to Wrigley in the film ("swing, battah battah, suh-wing," says Cameron). We've been wishing for a similar setting-cinema match here, with either "ET: The Extraterrestrial" or "Poltergeist." Both films lavished the visual love upon Tujunga and Simi Valley, respectively.
But while we await the day when hordes of people are invited to picnic in suburban streets, having Hollywood nearby is a good also-ran. No complaints. And that's just where "Poltergeist" will screen on Saturday, Oct. 15, when Cinespia visits Hollywood Forever for one last call.
We know. The Cinespia season did wrap a few weeks ago, and with "ET," too, coincidentally. But the film lovers are going for one more movie, before the weather gets too chilly. And Saturday looks beautiful.
So. Little Carol Anne before the fuzzy television. The great JoBeth Williams. Zelda Rubenstein, hooray! And the chairs-in-the-kitchen scene. Are you ready? We've seen that scene a dozen times and we're never not startled.
Donation is $10, parking is $10, there are some blanket/picnic rules. Don't forget your clown doll.
Copyright FREEL - NBC Local Media