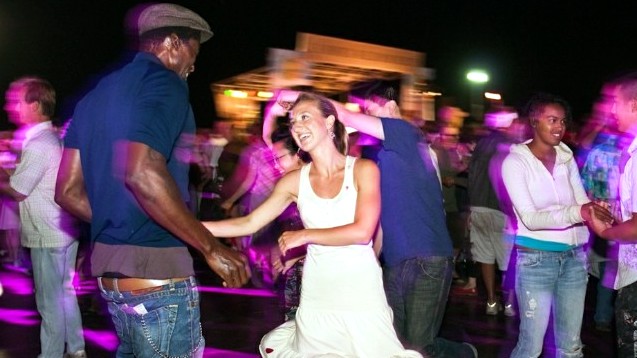 Dancing on an old-school pier? It almost sounds as if it is something that was popular back in the aughts, when the dancers barely touched hands and large bustles kept everyone at bay.
No longer, of course. Santa Monica Pier may still have plenty of old-school charm, but its summertime Twilight Dance Series is completely au courant (though if you want to show in spats and a bustle, by all means). It usually kicks off on a Thursday in early July -- as it is doing in 2011, on Thursday, July 7 -- and it spends the next several Thursday evenings entertaining people for free.
For free. We'll say that one more time. For free.
All sorts of stars and bands show, too. Remember Patti Smith played last year? Cool. Adding to this year's cool will be the Bangles, Missy Higgins, and Royal Crown Revue. You'll want to show who is showing on what night.
Night one will feature the SaMo Mambo. Get there well ahead of the 7 p.m. start time, we say. The mambo gets going on Thursday, July 7.
There are also a few theme nights ahead, like Australia Rocks the Pier! on July 21. That's when Missy Higgins and Kim Churchill rock the stage.
It's a fact: Twilight Dance is a Santa Monica summertime classic. We hope it is around in a hundred years, and bet it will be. And then some future blogger will implore people of 2111 to wear their flashy kicks and skinny jeans, like people used to wear way back in 2011. Or maybe bustles will make a comeback in 2111? Fingers crossed.
Copyright FREEL - NBC Local Media