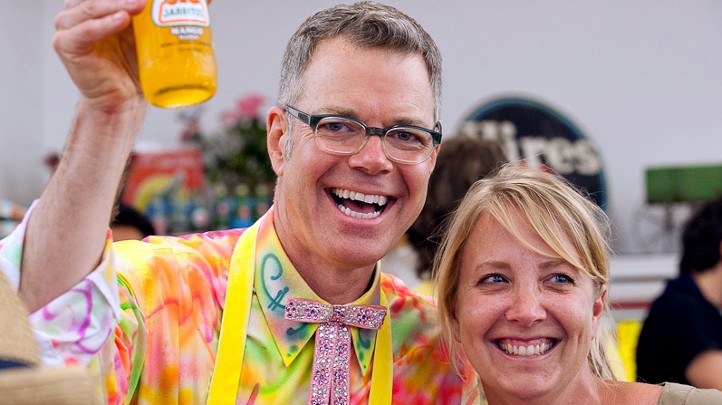 It may shock you to learn that in the world of beverage-based tastings, wine is king.
Or perhaps, living in California as you do, you're not at all surprised by this. Beer samples get a lot of play these craft-minded days, too.
But soda tastings? Beyond the little card table set up with the paper cups at your grocery store? Not so much, right?
Galco's Soda Pop Stop, the Eagle Rock destination for all things carbonated, wants to change that up (make that the northern bit of Highland Park! Thanks, Highland Park peeps, for the reminder in the comments; for more humorous neighborhood place-sharing, please read this).
So for the second year the beloved bev bastion is throwing a Summer Soda Tasting on Sunday, July 22, complete with entertainment and small sips of the most unusual of flavors.
Like? Like jasmine soda. Like rose soda (we've tasted it -- it is indeed floweriffic). Like Soda of the Year Mr. Q Cumber. Can you guess the flavor? Hmm. Scratching head and thinking.
A few to-knows. History-loving funny person Charles Phoenix will visit the historic grocery store with his latest culinary creation: The Seven-Layer Soda Pop Rock Cake. Well, that sounds like a delicious treat for when you want the tots to settle down. Kidding. Also? Galco's will auction off its last four six-packs of Dublin's Dr. Pepper, which any soda maven can tell you is like liquid gold.
And finally? This all benefits the Southwest Museum. Yay that. Loving on LA's oldest museum is right and it is good.
A day-of ticket is $15. Oh, and can we have a whoop-whoop for John Nese, Galco's long-time owner and the portrait of the community-nice businessman? He's practically an eastside legend. Say hi to him, and thanks, at the fizzy bash.
Follow NBCLA for the latest LA news, events and entertainment: iPhone/iPad App | Facebook; | Twitter; | Google+; | Instagram; | RSS; | Text Alerts | Email Alerts
Copyright FREEL - NBC Local Media