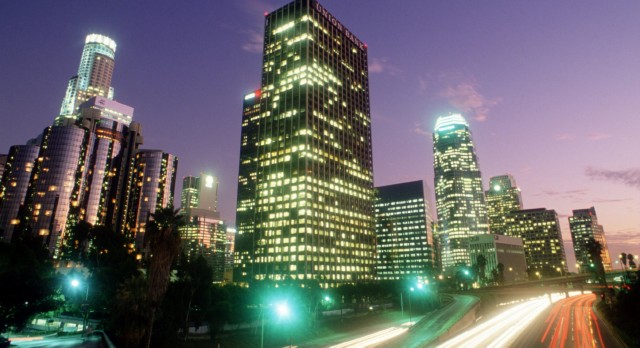 A city at near-night is a beautiful sight to behold. And we do mean behold. Beholding in our book: pausing to watch the fluorescent tubes blink on in some massive office building, admiring the colorful illumination circling the tippy-top of the Library Tower, eyeing the stop-and-go of traffic, listening for laughter from restaurants, and music from bars.
We're feeling the poetry. Somebody get us a blank book, and a gel pen. Maybe gray? The color of sidewalks and fog.
LA Conservancy has gained fame for leading walking tours around our beautiful downtown, but mostly on the weekend mornings. That's why the Conservancy's Downtown at Sunset walking tours, which only happen in the summer, and just for part of the summer, appeal. To begin with, each tour happens on a Wednesday night, meaning if you work downtown, staying downtown to attend is a cinch. Mixes it up a bit.
Also a bonus: Downtown at Sunset will cover Little Tokyo and City Hall, two spots formerly spotlighted by the Conservancy's Saturday tours but no longer. The other tours -- think Art Deco, Union Station, Evolving Skyline -- will include much of what's in the weekend version, with the added benefit of seeing these places on a weeknight. Different vibe, different look.
Note: The tours are a bit shorter than the weekends. School night and all.
It all starts Wednesday, July 22nd. It ends August 26th. It's every Wednesday night. General admission is ten bucks. Union Station at twinkly twilight? Somebody get us our gel pen. We feel a sonnet simmering.
Copyright FREEL - NBC Local Media