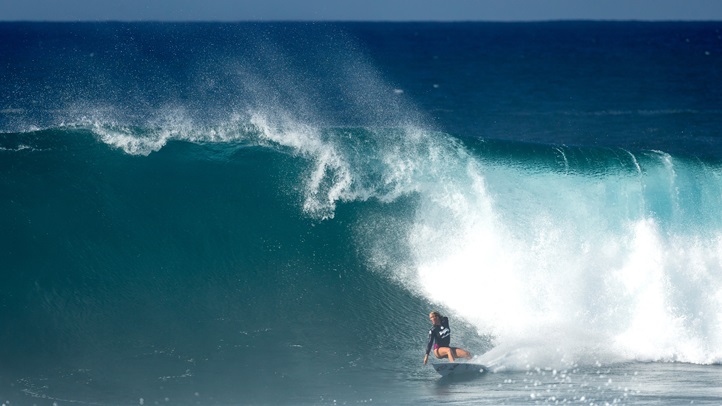 DOWN TO THE SAND: SoCalers are often pictured hustling down to the sandy shore come the close of summer, when the temperatures truly start to rise and back-to-school time lingers on the horizon (so getting in that one last day at the beach becomes oh-so-important). But lovers of water-close competitions, and those right on the water, are some of the people you're bound to see making for the sand come the close of the warmest time of year. That's when an impressive caboodle of major volleyball showdowns net-up along the Pacific Ocean, and that's when the superstar-packed Hurley Pro and Swatch Women's Pro happenings turn their boards for Lower Trestles in San Diego County. The San Onofre State Beach stretch is known for its plum surfing, which draws the headliningest of the hang-tenners there each September. As it will again, for a big exciting multi-day stretch, from Wednesday, Sept. 9 through Sunday, Sept. 20.
A WHO'S WHO LIST... doesn't get more who's-who-y, and the roster of greats set to show shall astound even the most devoted beach buff. World Champions Layne Beachley, Lisa Andersen, and Sofia Mulanovich will compete in the "first-ever Heritage Series," and Bethany Hamilton won the wildcard slot for the Swatch Women's Pro, a much-sought-after get. No word if her four-month-old son will be there with pop Adam Dirks, watching mom take on some radical waves, but the subject of the film "Soul Surfer" will definitely bring a lot of fans out to watch.
"FIVE LEGENDARY MALE SURFERS": A quintet of icons will also be going wave-to-wave in the Heritage Series Expression Session, so get your beach spot and cheer on Cheyne Horan, Michael Ho, Shaun Tomson, Wayne "Rabbit" Bartholomew, and Simon Anderson. This is big-time, super-stoked surfing, the kind of action that documentaries and sports channels regularly cover, giving the end of our SoCal summer some glorious, fearless foam surf-a-tude. The heats, a roster of the competitors, and what to expect at Lower Trestles over a busy third of the month can be found here and here.
Copyright FREEL - NBC Local Media