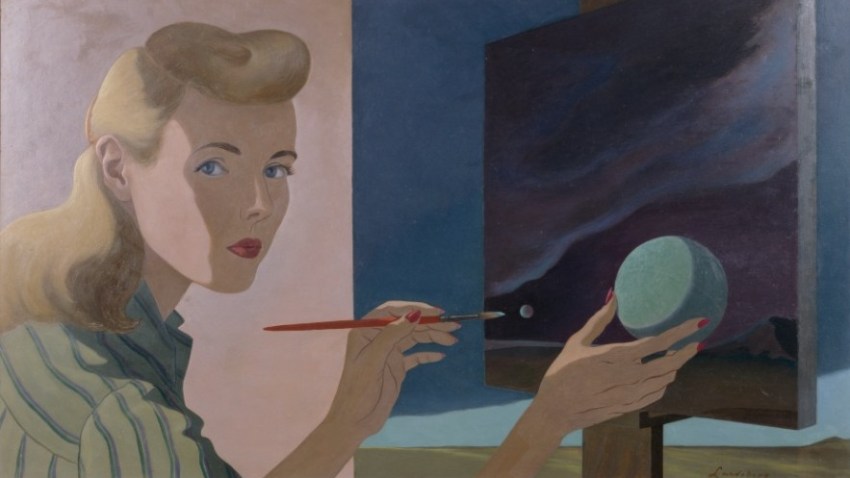 While entire college seminars have been, and will be, devoted to gender studies and specific art movements and trends, few can argue that surrealism held a particular draw, and important opportunities, for women intent on creating new worlds.
After all, boundaries? Strictures? Traditions? Surrealism stands in opposition to all of those ideas, and every other idea that implied "no" or "you can't do that" or "men only."
"In Wonderland: The Surrealist Adventures of Women Artists in Mexico and the United States," an exhibit opening at the Los Angeles County Museum of Art on Sunday, Jan. 29, celebrates those pioneers that seized the tenets of surrealism and ran with them. And, of course, the astounding works they created.
Frida Kahlo is well-represented, of course; Leonora Carrington, Kay Sage, Helen Lundeberg (a self portrait is pictured above), and the great Remedios Varo all get a spotlight, too, in addition to a number of other envelope pushers and brave iconoclasts.
Lovers of sprawling ideas, deep dreams, and strange worlds will be out in force, for sure, looking for their favorite artist; for us, Remedios Varo is pretty life-changing. Her paintings are at once whimsical and light but also about eight layers deep. If only every painting in the world could boast multiple layers; artists everywhere, look to the oeuvre of Doña Varo for sustenance and inspiration. We're sure many already have and do.
"In Wonderland" will be on display from Sunday, Jan. 29 through Sunday, May 6 at the Resnick Pavilion at LACMA.
Pictured: Helen Lundeberg, "Self Portrait (with Landscape), 1944, courtesy of The Feitelson/Lundeberg Art Foundation, photo courtesy of the Zimmerli Art Museum at Rutgers University by Jack Abraham
Follow NBCLA for the latest LA news, events and entertainment: Twitter: @NBCLA // Facebook: NBCLA
Copyright FREEL - NBC Local Media