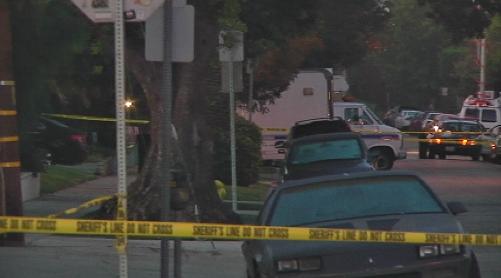 A suspect was arrested Monday in connection with Thursday's triple homicide in West Hollywood.

Harold Yong Park, 31, of East Hollywood, was arrested without incident around 11 a.m. following a traffic stop in Lomita, according to Lt. Pat Nelson of the Sheriff's Homicide Bureau.

Park's vehicle was located by an Advanced Surveillance and Protection Systems Automated License Plate Recognition patrol vehicle. He was then interviewed by homicide investigators, Nelson said.

Park was in possession of a significant amount -- multiple pounds -- of marijuana. Investigators said the marijuana may have been taken from the West Hollywood apartment following the killings, Nelson said.

The motive for the killings is still under investigation, but investigators believe robbery was involved, Nelson said.

``The people of West Hollywood can rest easy tonight,'' Nelson said. ``The timely resolution of this case is the culmination of extensive efforts by Sheriff's Homicide Bureau and Major Crimes Bureau investigators, Scientific Services Bureau crime scene investigators, and West Hollywood and Lomita Station sheriff's deputies.''

Pirooz Moussazadeh, 27, his brother, Shahriar Moussazadeh, 38, and Bernard Khalili, 27, were shot about 9:15 p.m. Thursday at the Kings Arms apartments in the 600 block of North Kings Road, near Melrose Avenue, according to Craig Harvey of the Los Angeles County Department of Coroner.

The Moussazadeh brothers lived together in the apartment, sheriff's deputies said.

Khalili's sister Bianca died in 2008 when she fell from a Century City high-rise. The Beverly Hills High School senior was in a heated argument with another girl over a boy just moments before her death, which was ruled a suicide.

The three were apparently ``targeted by assailants seeking something from one or more of the victims,'' law enforcement sources told the Los Angeles Times.

Detectives found no sign of forced entry, drugs or weapons in the apartment, The Times reported.
Copyright CNS - City News Service