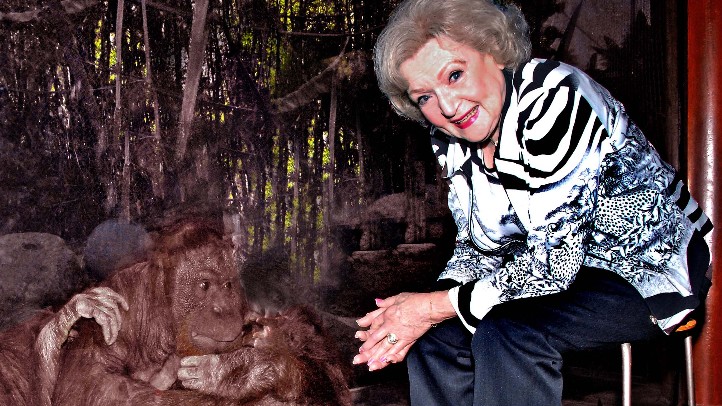 Many actors are serious supporters of animal causes and organizations but few merit mentions on the homepages of major institutions. But then few people are Betty White, who was recently feted in many corners in honor of her 90th birthday (including the Monterey Bay Aquarium web site's landing page).
The headline here? Ms. White is well-known for her dedication to animals, and well-loved for that dedication, too. And now GLAZA -- aka the Greater Los Angeles Zoo Association -- and TV Land have partnered on one very special birthday tribute: The naming of the zoo's newest baby orangutan.
That Borean orangutan, born to Kalim and Minyak, is named Elka, which just happens to be the name of Ms. White's character on "Hot in Cleveland." Yep, TV Land paid tribute to the star's 90th via GLAZA's Animal Naming program. Which makes sense, since Ms. White has been an active supporter of the zoo for over 50 years.
It's a nice moment for the much-loved actress and it also lends awareness to the institution's naming program, which raises funds for conservation efforts.
And does Betty White merit her own special zoo URL? You bet. Check out the backslash-Betty action now: http://www.lazoo.org/betty/
Is that Betty visiting the tapirs on her special zoo page? We're sure won't see a better photo today.
Follow NBCLA for the latest LA news, events and entertainment: Twitter: @NBCLA // Facebook: NBCLA
Copyright FREEL - NBC Local Media