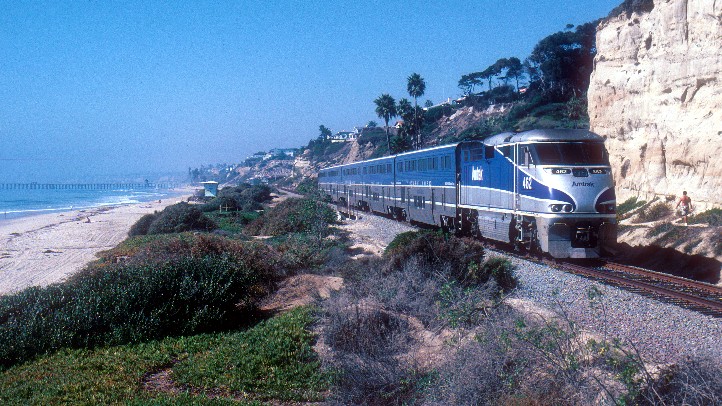 SURFLINER BUZZ: We've said it before, and we surely can't be the first to think it. The third Friday in July should be some sort of official unofficial Day of the Pacific Surfliner, seeing as how a lot of Los Angeles boards the Amtrak train for San Diego and a weekend at Comic-Con International. Of course, the Surfliner runs throughout the year, and thousands of riders regularly take it for purposes other than heading for the world's most famous pop culture convention. But it gets a lot of love around late July, certainly. If you're currently Surflinering it to San Diego, here are a few more things to know.
SURFBOARDS ARE OKAY: There can't be too many trains in the world that have that as an asterisk. But when "surf" is in your name, you've got to be a friend to the sandy set. Bikes are okay aboard the train, too. There's stuff to know with cycles, note.
IT'S NOT ALL ABOUT US: We all know the Surfliner doesn't run solely between Los Angeles and San Diego, but looking at the 30 stations it does serve is a worthwhile minute spent. It stops in Goleta! And Van Nuys! And lots of other exclamation point-worthy spots. If you're a regular Surfliner rider, we expect you know all the abbreviations. Quick: What's CPN? Yep. Carpinteria. We like saying Carp for the town, like pretty much everybody, but maybe we'll try "in the CPN" for a bit. See if we fancy it.
YOU CAN EAT: You know this. It's an Amtrak. It's good ol' diner fare, with piquant stuff like jalapeno burgers mixed in. We'd probably go from Van Nuys to Goleta and back, just to have a moving lunch. No tablecloths or candles, of course, but no one'll stop you from reading Agatha Christie while you sup.
Copyright FREEL - NBC Local Media