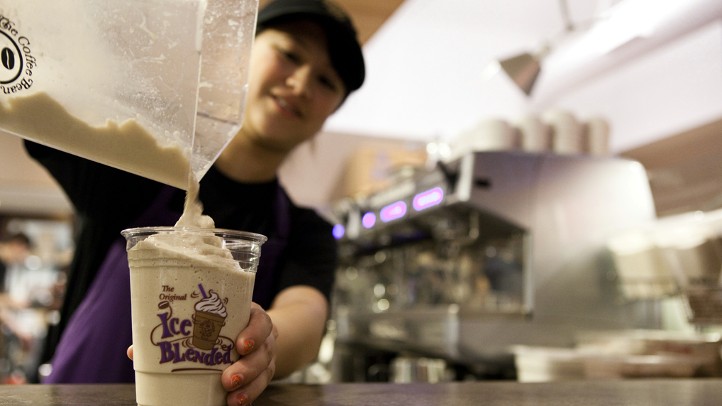 Heading out for fireworks on Fourth of July? How about a pancake breakfast? A big parade? All of the above?
If you need to caffeinate up in the midst of your holiday outings -- and, let's be honest, as wonderful as those pancake breakfasts are, one requires a bit of pep after downing a half dozen flapjacks -- here's one nice suggestion: an Ice Blended at a Coffee Bean & Tea Leaf.
And, nope, it isn't just about the caffeine, either. LA's own Coffee Bean & Tea Leaf will be offering 12-ounce Ice Blendeds for two bucks on Wednesday, July 4. And one dollar of every Ice Blended sold will go to Operation Homefront, which helps "troops and their families in the U.S." It's part of the Support at Home program.
The company notes that the Fourth of July fundraiser includes the new flavors, too, so ask for a Mocha Mudslide or Cookies & Cream.
To find a Coffee Bean & Tea Leaf near you, and find out about how their Support at Home program will continue in other ways through Aug. 5, check out the site. For more information on Operation Homefront, click here.
Follow NBCLA for the latest LA news, events and entertainment: iPhone/iPad App | Facebook; | Twitter; | Google+; | Instagram; | RSS; | Text Alerts | Email Alerts
Copyright FREEL - NBC Local Media