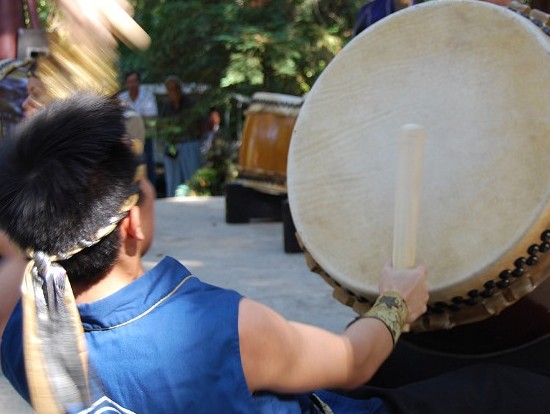 Stroll through a colorful, camera-ready Ikebana flower display? This is just the mind balm we're needing on the first weekend after the mad month of Halloween. So we were happy to learn that on Saturday, November 7th and Sunday, November 8th, Descanso Gardens once again welcomes the Japanese Garden Festival.
A peaceful, petal-laden spot pretty much any time of the year, Descanso is the ideal setting for the traditional festivities, which puts a focus on Ikebana -- or the art of flower arranging -- as well as the mum, that full-headed, autumn-hued fall favorite.
But it isn't all about foliage and flora at the Japanese Festival. Visitors can also enjoy a meditative meal of miso and seawood salad in the Full Moon Tea House before heading for the booming call of the Taiko drums at 1PM on Saturday, November 7th (if you've ever wanted to try this vigorous form of drumming, stick around after the show and give those mallets a whirl).
Reservations for the special Full Moon Tea Service are being taken now. The service is from noon-4PM both days and is $19.50. Call ahead if you want to attend, especially during the hours of noon-2PM. We wouldn't be surprised if this got full fast.
We're also exceedingly fond of Descanso's quaint gift shop -- some of the best letterpress cards in the city are sold here -- as well as some of the unbelievably intricate, dew-dotted spider webs we've seen high up in the trees around the Gardens during the fall (arachnophobes, take heart; the webs tend to be well off the main paths). Make time for the festival, and then a walk through the wild.
Regular admission will get you into both the gardens and festival.
Copyright FREEL - NBC Local Media